Govt under fire for its 'anti-worker' policies
Sonepat, November 29
The general secretary of the National Federation of Indian Road Transport Workers Union, Mr S. L. Yadav, has called upon the roadways workers to remain united and continue their peaceful struggle in support of their demands.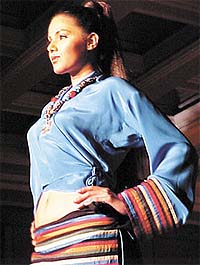 SHOW-STOPPER: A model struts her stuff at a fashion show, "Organic Movement", jointly organised by Bio Dynamic Organisation of India and NIFT in the Capital on Friday. — Photo Anil Sharma

Finally, admn evicts the Sanoli Road encroachers
Panipat, November 29
After dithering for several years, the district administration has finally wielded the stick against encroachers on one of the busiest and most-heavily encroached upon roads -- the Sanoli Road.
There is none to guard Greater Noida
Noida, November 29
There is little by way of safety and security for about 50,000 people living in different sectors of Greater Noida. The security of one whole sector is supposed to be taken care of by one guard.
Cooking gas on tap is no more a pipedream
New Delhi, November 29
Gulmohar Park Journalist Colony joins a few residential colonies of Delhi having the supply of piped natural gas directly into the kitchen. Dr Kiran Walia, MLA of the area, inaugurated the supply of natural gas for cooking in the presence of officers of Indraprastha Gas Ltd and the MCD and residents of the area.
THE ACHIEVERS


The zero-watt bulb that glows in this dark age
New Delhi, November 29
While studying in the Shahdara-based Shyam Lal College in the early eighties he found that some influential students were indulging in cheating during the annual examination and this was being done with the connivance of certain teachers. Aghast at this, he objected and subsequently boycotted the examination when no action was forthcoming.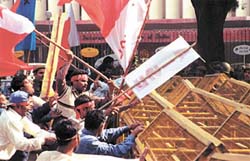 All India Students Federation activists protesting against privatisation of education at Jantar Mantar in the Capital on Friday. — Tribune Photo Mukesh Aggarwal

IN PARLIAMENT
Rajdhani Exp to Mumbai becomes daily
New Delhi, November 29
During the last two years, 310 licences have been suspended, 710 licences cancelled, 800 prosecutions launched, 154 judgements obtained and 81 persons convicted for offences under the Insecticides Act 1968, the Rajya Sabha was informed today.
Website on Surajkund trade fest launched
Faridabad, November 29
A website of the `Surajkund Trade Fest - 2002', proposed to be held at Surajkund here from December 21 to 29, was launched here on Thursday evening by the Financial Commissioner and Secretary of the Tourism department Mr Bhaskar Chatterjee.
SPEAKING OUT
INDIA is fortunate to be clubbed with the developed countries. The recent G-20 meeting in New Delhi was an acknowledgement of India's economic development. But what is the actual scene? A large number of our people are still living in poverty. Many of them are illiterate.
This is simply not cricket!

Punish the scum of society

When the executive doesn't deliver

Woes of a retired JE

Pray ban child labour

Huda, please listen

Yet another Huda victim

A senior citizen's appeal


BEYOND THE HORIZON
Children badly need a Santa Claus
NOVEMBER 14 is the birthday of Pt Jawaharlal Nehru. He was the first Prime Minister of an independent India. Apart from a democratic administrator, he sought to see India a self-reliant and self-respecting country. He was an apostle of peace also.
Career fair for unemployed youths
New Delhi, November 29
A career fair aimed at addressing the issue of unemployment was organised in the Capital today. Union Labour Minister Sahib Singh Yadav addressed the unemployed people who were gathered there.
NCR BRIEFS
31 fair price shops opened
Faridabad, November 29
As many as 31 fair price shops were opened by the District Food and Supply department here, the same number of shops that were closed down in the last month on charges of irregularities. The district has 951 fair price shops, of which 643 shops are located in urban areas.
Grant to best sportsperson

Mobile eye camp

Roadways workers' rally

Former minister bereaved

Rebuffed in love, two girls commit suicide