THE TRIBUNE MAGAZINES
On alternate Mondays

On Sundays
On Saturdays

IN PASSING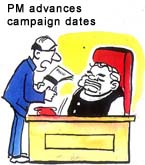 Sir, this file says nothing about Gujarat. Do you really want it?
by Sandeep Joshi
Challan not at my behest: Amarinder
Asks Centre not to tamper with MSP mechanism


Chandigarh, November 30
The Chief Minister of Punjab, Capt Amarinder Singh, today denied that the filing of a challan in a corruption case against his seniormost Cabinet Minister, Mrs Rajinder Kaur Bhattal, in a court here yesterday was due to vindictiveness on his part.
38 die as bus falls into Chenab
Jammu, November 30
At least 38 persons, including women, were killed when a passenger bus in which they were travelling fell into the Chenab today. As many as 20 passengers were injured. The police said the bus, carrying 57 passengers, was overloaded and was on its way to Marmath from Doda.
Irrigation scam: CE suspended
Chandigarh, November 30
The Punjab Government has suspended Chief Engineer, Sukhjinder Singh Sandhu, Superintending Engineer, Jarnail Singh, and Executive Engineers Gurmail Singh and Anil Khosla in connection with a multi-crore scandal pertaining to the Upper Bari Doab Canal remodelling project of the Irrigation Department.
6 Pakistanis held for attacks in Kenya
Kikambala (Kenya) November 30
Six Pakistanis and three Somalis were among 12 persons held in Kenya in connection with anti-Israeli attacks that left 16 persons dead near Mombasa, the police said.
Gorshkov deal not being signed during Putin's visit
New Delhi, November 30
Russian President Vladimir Putin's 38-hour-long visit to India beginning December 3 evening will mark a watershed in the emergence of a new India-Russia-China axis and is bound to take Moscow-New Delhi strategic ties to new heights.
HP CABINET DECISION
Power project to be joint venture
Shimla, November 30
The 144 Sawra-Kuddu power project will be executed jointly by four partner states of the Bhakra Beas Management Board and the Himachal government. The decision to take up the project as a joint venture was taken at a meeting of the state Cabinet held under the chairmanship of Mr P.K. Dhumal, Chief Minister.
In Her World today

Ayodhya trial in Rae Bareily
November 30, 2002
50 ultras rearrested
November 29, 2002
Badal courts arrest, let off
November 28, 2002
Mufti acted against advice: Advani
November 27, 2002
Temple terror ends
November 26, 2002

Raghunath Temple attacked, 12 dead
November 25, 2002

12 die as militants blow up bus
November 24, 2002

7 CRPF men die in Lashkar attack
November 23, 2002

POTA on hold in J&K
November 22, 2002

A go-by to House decorum
November 21, 2002