Challan not at my behest: Amarinder
Asks Centre not to tamper with MSP mechanism
Tribune News Service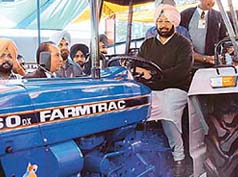 Punjab Chief Minister Amarinder Singh on a tractor at Agro-Tech-2002 in Chandigarh on Saturday. — Tribune photo Manoj Mahajan

Chandigarh, November 30
The Chief Minister of Punjab, Capt Amarinder Singh, today denied that the filing of a challan in a corruption case against his seniormost Cabinet Minister, Mrs Rajinder Kaur Bhattal, in a court here yesterday was due to vindictiveness on his part.

Talking to mediapersons here, he said the challan had been filed by the Vigilance Department in accordance with the directions of the court of Special Judge at Bathinda, who had said that it should be filed at Chandigarh because it was not in his territorial jurisdiction.

"There is no vindictiveness involved on my part. Filing of the challan is a part of the procedure. I hope that she will be able to emerge unscathed".

The Chief Minister was reacting to media reports emerging out of the Bhattal camp that the filing of the challan before a court here within two days of her winning a reprieve in the Bathinda court, was a deliberate attempt by the Amarinder government to implicate Mrs Bhattal in the absence of the Congress President, Sonia Gandhi from the country.

Asked if he would ask Mrs Bhattal to resign on moral grounds as she had been roped in a corruption case, Capt Amarinder Singh quipped:

"Why should she resign? She was democratically elected as an MLA even after the filing of the case against her, which was registered two years back during the Akali regime". Meanwhile, Amarinder Singh, today warned the Centre against any attempt to dismantle the minimum support price (MSP) mechanism for wheat and paddy.

Speaking at the inaugural session of the four-day Agro Tech 2002, billed as India's premier biennial agro-technology fair, organised by the CII, Capt Amarinder Singh said any such move would lead to a collapse of agriculture in Punjab.

Such a step would lead to widespread unrest in the farming community. There was no gainsaying the fact that our neighbouring country, which had always tried to fish in troubled waters, would take advantage of such a situation, the Chief Minister warned in an obvious reference to Pakistan.

Capt Amarinder Singh said: "We are being forced to live from crop to crop as regards the Centre's policy on MSP for wheat and paddy. This is not a happy situation". He pointed out that Punjab contributed 50 per cent of wheat and 40 per cent of paddy to the central pool. In a bid to help farmers breakout of the wheat-paddy cultivation cycle, the government was trying to promote diversification of crops. "We are trying out new crops and encouraging cultivation of fruit and dairy farming. But all this will take time."

The Chief Minister invited industry to invest in agri-business in his state, offering to do 'everything in his power' to smoothen the process. He specifically invited investment in the sugar sector and embryo transfer technology for the dairy industry.

Mr Surjit Singh Barnala, Governor of Uttaranchal, the partner-state in the fair, said despite the state being 'two-years-young' had moved quickly in setting up the mechanism for facilitating investments, setting up a food park and lychee and floriculture export zones, endeavours which had won it the prestigious APEDA Award for excellence in agro-exports.

He invited delegates to visit the Uttaranchal stall to interact with officials and visit the state to see for themselves the 'superb' climate and environment it had to offer.

Netherlands Ambassador PFC Koch dwelt on the Dutch experience which could be a road map for India. He said Holland, a state smaller than Punjab and with less than three per cent of the population engaged in agriculture, was the world's second biggest exporter of food products and the largest in value-added terms.

Dwelling on Agro-Tech, Chairman of Agrotech 2002, Mr Anand G Mahindra drew parallels with the Mahakumbh, the world's largest fair. He said like the churning of oceans, Agro Tech too saw collaboration among many countries, hundreds of companies and thousands of delegates. He observed that like the Kumbh, Agro Tech had something for everyone.

Mr Rana Kapoor, Managing Director, Rabobank India, said the bank had recently conducted a study to draw up a strategy for building up on India's strengths in food production. He said India must acquire a global status in at least three food products, two fruit products, dairy products and rice.

Mr S.K. Bijlani, Chairman, CII, Northern Region, said falling margins had made it imperative that India adopted new technologies to compete and it could learn from the diverse experience of the participating countries. Delivering the vote of thanks, Mr Gokul Patnaik, Chairman, Food and Agriculture Sub-committee, CII, Northern Region, said the Dutch stall especially should provide a fascinating glimpse into how the small country had emerged as the world's largest exporter of processed food products with exports of over $ 300 billion annually.