HER husband lives in Liberia, her daughter is studying in college in the USA, and she is now in Chandigarh. How would Balreet keep them in touch with whatís happening? Through e-mail of course, you would say. Right, but in addition to that she wants to convey so many things that canít quite be described through wordsóher sonís smile after he got admission in his fatherís alma matter, for example. Thatís when she turns to a digital camera.

IT opening new vistas for women
E-COMMERCE is a potential gold mine for women in the developing countries, but to seize those opportunities they will have to overcome lack of education, infrastructure and finance, says a new UNCTAD report.

IM not safe. Am I?
Vibhor Sood
INSTANT messaging (IM) refers to the capability to send an immediate, text-based message to another user on a computer network. As instant messaging use grows, so do business concerns about security, authenticity, and encryption. Business users will make up nearly half of the 506 million IM users expected online by 2006, say IDC researchers.

E-tagging convicts
Martin Bright
BRITAIN is considering a controversial scheme to surgically implant electronic tags in convicted paedophiles amid fears that the extent of children abuse has been massively underestimated. Documents obtained by The Observer newspaper in London reveal the UK Government could track paedophiles by satellite, with a system similar to that used to locate stolen cars.

Farmer who grows data
M. Suchitra
AS the farmersí organisations mount their agitation against globalisation and as policy makers tax their brains for solving the crisis in the farm sector, one man has been trying almost single-handedly for the last five years to collect information on various aspects of farming from diverse sources and explore a path for the state to emerge unscathed out of the WTO maze.

Gates visit raises hopes
Shibani Dasgupta
THERE is an air of cautious optimism in the realm of information technology, two years after the dotcom bust followed by 9/11. The announcement by Microsoft honcho Bill Gates that his company will invest $ 400 million (Rs 2000 crore) in India over the next three years has been applauded. Going by the indications in Bangalore where IT is the lingua franca after Kannada, new openings, online jobs, new training centres linked with universities abroad will beckon the trained would-be-professionals.

IT WIT
by Sandeep Joshi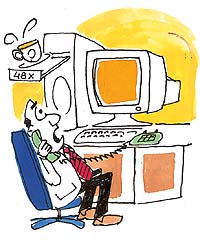 Hello, A to Z Computers? The cup holder in the PC you supplied to me goes in every time I put my coffee cup on it.
Mergers and acquisitions may be the way out
Imran Qureshi
MERGERS and acquisitions, or M&A, could become the way out for several mid-sized and small companies as the clones of the biggies get clobbered in a possible shakeout in Indiaís IT industry. Mascot Systemsí planned acquisition of US-based eJiva and Hyderabad-based Aqua Regia to drive business growth is being seen in industry circles as a logical step towards meeting the demands of the uncertain global business environment.

Cyber stalkers active, IT Act silent
Lalitha Sridhar
OUR understanding of the virtual world is woefully slim; and of cyber crimes, even less. But, as law enforcers are finding out, their effect on the real world is devastating; preventing and detecting cyber crimes is now being given a priority. Economic offences dog the $1.2 trillion electronic commerce industry worldwide. Even as law enforcers struggle to cope, other ó and newer ó violations loom large, the victims falling into an anonymous abyss. The Internet can, and often has, become the space for predators seeking women and children.

WiLL it, wonít it?
Prateek Bhatia
AS wireless technology becomes more affordable, new applications are being discovered daily that were not economically feasible in the past. One of these is Wireless in Local Loop (WiLL) which represents one of the most exciting growth opportunities in the communications business.

Nanotechnology set to storm hi-tech world
Rajiv Kapoor
THE world today is on the brink of a technological revolution it cannot fathom. In the near future, a supercomputer will be as big as a human cell, a four-person, and surface-to-orbit spacecraft no larger or more expensive than a family car. Soon, every person on the planet will be introduced to a new, more powerful industrial revolution capable of bringing wealth, health and education without pollution. This is the promise of the new emerging technology called nanotechnology.