Tera Roop
(Tips)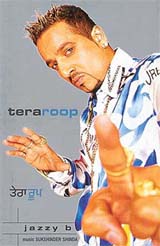 As far as the hairstyle, French cut and apparel are concerned, Jazzy B (Jaswinder Singh Bains) is as westernised as, if not more than, any other Punjabi singer of today. Yet, his singing style and the choice of musical instruments are more conservative than most others. In fact, his kinds of songs are heard more during rural fairs than urban soirees. It is another matter that the video footage accompanying Tera Roop and Hasna have all the modern trappings, shot as these are in India and South Africa.
This trait was noticed even in his earlier albums Surma and Oh Kehri and is all the more present in Tera Roop. Right from the word go, the album goes into the bhangra mode. It is a classic blending of Punjabi pop with Calypso chorus.
Satinder Kala, Pinda Dhaliwal, Sukh Thandi and Jandu Litranwala's lyrics are also all about the rural Punjab. Jazzy has collaborated with Sukshinder Shinda on music production.
Shaan
(Virgin)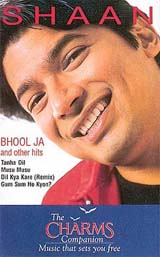 Shaan does not have enough songs to his credit to be able to call a recycled album the "best of Shaan". So, this one is just named after him. This is a compilation of some of his film songs and also songs from private albums.
Remix versions abound. Among them are Dil kya kare jab kisi ko kisi se pyar ho jaye … (Julie), Mana janab ne pukara nahin …. (Paying Guest), Musafir Hoon Yaaron …. (Parichay), Hum bewafa hargiz na the …. (Shalimar). Shaan is no Kishore Kumar but at least he tries.
Then there are his original songs from the album Tanha Dil and the films Pyar Mein Kabhi Kabhi and Raju Chacha.