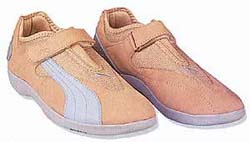 In terms of popularity, stilettos continue to score over flats, by virtue of sheer versatility. Stilettos make you feel tall and sexy — never mind if they hurt like hell and could ruin your health. After all, you don't wear stilettos all the time. And who does not want to walk tall when out?
Then there are those sneakers, which can be an everyday option for casual wear. Spikes are also there (but limit them to no more than a couple of hours at a time) as well as pumps and wedges. Slip-ons, kolhapuris, jodhpuris and sandals are some other options that go well with traditional Indian clothes.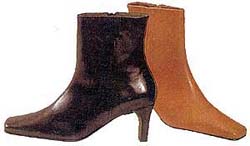 But make sure whatever you choose, fits you well and does not have heels higher than one and half inches. The height provides good arch support and with some cushioning and room to twiddle your toes, you need not feel as if you were walking on stilts.
Uncomfortable, impractical heels and soles can give rise to not only simple problems like fatigue and corns but also complex ailments like bunions, hammer-toes and pinched nerves. In fact, there is no end to the distress a bad shoe fit can cause.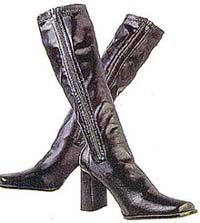 Shoe manufacturers are also increasingly coming around to realise that comfort ultimately holds the key to footwear fashion. Designers point out that the strongest trend this time round is a mix of traditional styles with chunky, wedge soles and unusual textures. Other designs include animal prints in women's footwear — loafers and simple slip-ons.
Then there are the black leather laced ankle boots, with a stacked wooden heel for a 'sporty look. In formals, there are the tried and tested Oxfords as well as army boots in conventional black and brown with an occasional dual tone thrown in.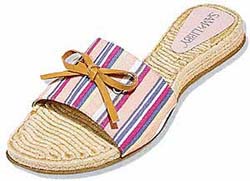 Of course, nobody really expects men to make a drastic fashion statement in footwear. But this year, some adventurous young men have been strutting about in clogs, which may tickle the casual trendsetters' fancy.
Yet another popular number this season is the unisex Moc, which has the versatility of a sneaker combined with the comfort of a loafer and comes in shades of grey and brown. Shoe designers are experimenting with newer shades but with designs of the past.
And then there are those who like high heels. Blending ethnic with the high tech, designers are creating mid-sized heels of plastic with patent leather and printed material. Ideally, a one-inch heel is fine, but for many, the good-old-four-inch heel still commands an undated, sophisticated look.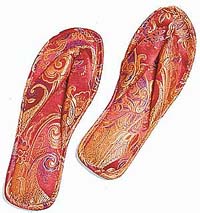 To go with long skirts, there are lace boots, elastic suedes and very elegant satin numbers. Here the colour grey rules. Matt grey, grey metallic, light grey and silver are all making a dramatic comeback this season.
The plain pumps are also on a revival trip. All those who had worn heels so high as to cause their feet to ache, are now taking to these low-heeled chunkier shoes with a vengeance. Once again, animal and jungle prints are making an appearance among the many hued varieties of pumps.
Ultimately, flats are making the most practical fashion sense. They not only serve the purpose of taking care of the feet, you can also choose the look and what is more, you can never go wrong. Flats have always been in fashion and would continue to be so. (MF)