THE TRIBUNE MAGAZINES
On alternate Mondays

On Sundays
On Saturdays

IN PASSING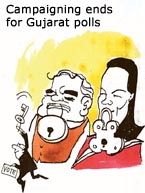 by Sandeep Joshi

Nation page: Punjab got Rs 12.95 cr under ICDS in 2002-03
SAD expels Talwandi


Amritsar, December 10
In a clear signal to detractors, the Political Affairs Committee of the SAD today expelled its Disciplinary Action Committee Chairman, Mr Jagdev Singh Talwandi, and Sant Veer Singh Madhoke, who had contested for the post of SGPC chief as a rebel candidate against the official nominee, Mr Kirpal Singh Badungar, from the primary membership of the party.



'Rasta roko' on February 10
'Diversion' of HUDA funds
Chandigarh, December 10
The Haryana Urban Development Authority is allegedly diverting funds, collected from its allottees, to the state government for fulfilling the latter's exigencies.
JKHRF chief sets himself aflame
Srinagar, December 10
Jammu and Kashmir Human Rights Front chairman Mohammad Ahsan Untoo sustained burn injuries today when he set himself on fire on the world human rights day in protest against the state government's failure to appoint a commission to probe human rights abuses in the state.

In video: (28k, 56k)
Disinvestment issue rocks LS
New Delhi, December 10
The disinvestment of HPCL and Centaur Hotel and divestment of BPCL created a furore in the Lok Sabha today, with the Opposition charging the government with bypassing the Parliament in taking these decisions.



Editorial: Disinvestment hiccups


Nation page: Furore in LS over 'beating up' of MP


Indian doc develops new TB test
Chandigarh, December 10
Oxford Immunotec Limited, a spin-off company of University of Oxford, has developed a revolutionary new test for identifying people suffering from tuberculosis, one of the deadliest social diseases of the world.
In Health today

HPCL, BPCL to go on the block
December 10, 2002
BJP ropes in Mayawati
December 9, 2002
Vajpayee hits campaign trail
December 8, 2002
N-nexus exposes murky details
December 7, 2002
Ex-minister Lone's brother shot dead
December 6, 2002
Dismantle terrorist units, Putin asks Pak
December 5, 2002
Putin arrives to forge new axis
December 4, 2002
Setback for CBI in Bofors case
December 3, 2002
More temples may be targeted: PM
December 2, 2002
Advani dares Pak to fourth war
December 1, 2002
Ayodhya trial in Rae Bareily
November 30, 2002