Manpreet wins gold in kho-kho
Our Correspondent

Ludhiana, December 12
The girls of Government Girls Senior Secondary School, Civil Lines, have done the school proud by doing exceedingly well in sports according to the Principal, Ms Sudesh Bajaj. She said the under 19 teams of 'kho kho' and cricket bagged first position at the district level. In basket ball competitions , the school team bagged the second position whereas in hockey, they were placed third. The judo team (under 14) won second position at the district level.

Manpreet Kaur won the gold medal at the national level in Kho Kho while Jitendar Kaur won first prize in cross country race.

The credit for good performance by the students goes to Mr Karamjit Singh, DPE and the two coaches, Ms Surinder Kaur and Ms Harwant Kaur.

NAAC team visits Malwa college:

The Malwa Central College of Education for Women, Ludhiana, is being graded by the National Assessment and Accreditation Council (NAAC). A four-member team headed by Dr T.K. Jayalaxmi and coordinated by Dr Antony Stella (Adviser, NAAC) visited the college on December 11and 12. They scrutinised all aspects of the college as per the seven criteria set by the NAAC. They also interacted with the management, and students.

The team acknowledged the consistent efforts of the college in giving training and especially catering to the needs of rural areas of Punjab through 705 seats reserved for rural students. They lauded the achievements made by the college including academic excellence.

The team was specially appreciated the extension work done by the college with the help of the teachers and students, said Dr Ravinder Kaur, Principal of the college.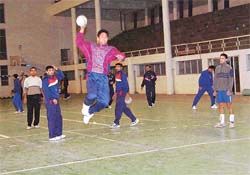 Handball players during a coaching camp, in Ludhiana on Wednesday. — A Tribune photograph

Punjab handball teams attend camp:

The Punjab handball teams (women and men) which attended a coaching camp here prior to their participation in the forthcoming National Games left today for Hyderabad. These games are to start there from tomorrow. The Punjab teams are the defending champions. They had won the title in the last edition of the games held here at Ludhiana last year.

The names of the players are (women) — Gurpreet Kaur, Indu, Harvinder, Karanjit, Harjit Kaur, Gurmeet Kaur, Kanwaljit Kaur, Paramjit Kaur, Anjana Saroop, Sandeep, Kuldip, Pawan, Neeti Saini, Balbir Kaur and Sushma. Mr Harinder Sharma and Mr Rupinder Singh will accompany the team as coach and manager, respectively.

Men: Raghu, Naveen, Kulwinder (jr), Sukhdev, Jaskaran, Baljit, Pawan, Rajnish Chowdhary, R. Thakur, Karanjit, Kulwinder (sr), Mukesh, Mohinder Singh, Shivraj, Gaurav Sehgal and S Raja Rao. Mr Kewal Singh and Mr B.S. Brar, will accompany the team as coach and manager, respectively.