Women flower with age while men wilt
Mohinder Singh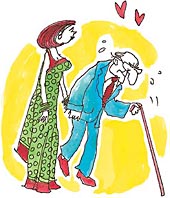 REENA is 60. She looks 50 and feels more like 40. The mother of a 35-year-old son living in the USA, and a granny too, Reena runs a bustling boutique. Fortnightly, she visits a beauty parlour for things such as facials, pedicure, manicure, waxing, hairdo. And plays nine holes of golf, three times a week. Hers is a regulated diet, sparing in sugar, salt and fats. She has also chosen to go on estrogen/progesterone supplements since the last four years.
Healthwise, her husband isn't doing too badly at 65. Yet the years have taken toll. After retirement from the Indian Administrative Service, he could only land a low-profile consultancy job while quite a few of his former colleagues hold on to prestigious positions.
Reena in contrast, stands transformed during the last 20 years — from a mere housewife into a business lady. She's already earning three times more than what Mohan did. Her business and housework just leave her no time to feel dispirited, even if she had a cause.
Among upwardly-mobile middle class women in their 50s and 60s, Reena's case is becoming more typical than an exception. This category has experienced dramatic changes in the last two decades, and more could be in the offing.
For ageing women, one traditional loss was that of youthful looks. Women as sex objects had to be young; whereas men matured, women got old. The fear of this loss is diminishing with women's heightened self-worth through other accomplishments. Many now succeed in retaining a trim figure and an attractive appearance far into their middle years. Germaine Greer, the noted feminist writer, when complimented on her youthful appearance on her 60th birthday quipped, "That's what a woman of sixty would look like". Some are even accepting their age with pride; a departure from the age-old pattern where women persistently, almost pathetically, lied about their age.
Yet the greatest gains in the last few decades have been in the area of psychological health. Earlier the incidence of impairment in mental health increased as women slid into their 30s and 40s. Psychiatrists mostly blamed it on women enjoying much less control over their lives than their male counterparts. Now this percentage is markedly down for educated middle-aged women; not only for those who combine outside jobs with housework, but also with full-time housewives.
It has been the accepted wisdom that menopause was a critical event in the life of a woman. The end of her reproductive life was deemed a major threat to her adjustment. Evidence is accumulating that a large majority of present-day women really suffer no psychological problems, and little physical discomfort except occasional hot flashes. Menopause is more of a bugbear than a stressful experience.
Some even report a positive improvement in their physical and emotional health, and the event no way affects their sexual activity. In fact, to a lot of women, the cessation of their fertility comes more as a relief.
Another presumed stress point for middle-aged women was the "empty nest" syndrome — when the last child left the parental home for good. Of late, several surveys on the subject have come up with the surprise finding that the syndrome was more a myth than reality. Women, especially home-centred women, did anticipate the event with a certain foreboding, but five to ten years later, hardly anyone admitted to stress on this score. Indeed, some expressed their "guilt" at "feeling better than ever" or "much freer and in charge of my own time". The "empty nest" did create conditions for change, but these were often utilised for taking up other self-fulfilling activities.
Contrary to expectations, quite a few men had reacted more acutely than their wives to the "empty nest" situation. These were mostly men at a stage where they were focussing much less on job success and sought intimacy with their children.
Widowhood is the ultimate tragedy; women often fear it more than their own death through illness. There is the loss of identity as someone's wife, a horrid feeling of incompleteness and incompetence an ugly void in social life, and a host of other complications.
Yet some recent surveys have thrown up a different picture. An overwhelming majority of widows, after they got over the initial grief, became more independent and competent than while their husbands were living. They managed to develop more rounded personalities as a consequence of being left on their own.
New research reveals that older women "adjust" to the death of a spouse and, with whatever pain or grief, move on to new strengths afterward, with less apparent difficulty than younger women and than men at any age. If an older man's wife died, he is more likely to become sick and die within the next two years, than other men of comparable age. The vulnerability disappears if he remarries or after he survives five years alone. No such drastic toll on women's life takes place with widowhood.
Another traumatic event is retirement: The loss of identity, status, satisfying work, peer support, let alone reduced finances and increased hassles in everyday living. Previously women only coped with their husbands' retirement. Now many themselves retire from jobs.
Men, compared to women, seemed more deficient in some basic strength to survive retirement. Women, of course, have this advantage; they never retire from housework. To that extent, retired women's lives stay fuller than those of retired men.
Some psychologists make out that women develop a greater capacity to meet "discontinuities" than men, because they encounter more of these in their lives. From a girl-child playing freely with boys, she abruptly changes at puberty into one who is demure and self-protective. She takes a job or prepares herself for one, but often gives it up with marriage and children. And then suddenly at fortyfive this role is over: menopause, the "empty nest'. Women thus grow better accustomed to change and impermanence than men.
Glances that unemployed men receive part-pitying, part-censorious testify that admiration, these days, is reserved for elders who successfully challenge their biological clock with prodigious feats of energy and accomplishment. That's another pressure point with ageing men, but nowhere so evident with ageing women.
From adolescence through their forties, women become increasingly feminine and men increasingly masculine. But by fifty, each is seen allowing qualities conventionally assigned to the opposite sex to emerge. Women become more assertive with age and men more giving. Women who had been constricted by the conventional values to attract and please men begin to express their feelings in all sorts of new and different ways; they grow more self-confident. At midlife, there possibly occurs a male-female crossover".
And the same finds reflection in the sexual sphere. The husband's sexual drive diminishes (a biological phenomenon related to age) whilst the wife's remains unchanged or may even increase (there's no such direct link with age). Indeed, women usually ceased sexual activity mainly as a result of their mate's lack of libido or his demise.