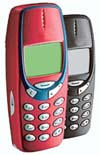 Grey sells
Peeyush Agnihotri
GREY glitters, genuine does not. At least in the cellular phone industry. That, because of it, the legitimate cellphone industry is seeing red is another matter. No wonder, according to IDC (International Data Corporation), the legal market for cellular handsets has remained miniscule. The share of grey market shot up from 74 per cent in 2000 to 89 per cent by the end of 2001. Grey market is basically unauthorised sector that comprises smuggled handsets, parallel imports and those instruments for which taxes are not paid.


SMS transits to MMS
Vibhor Sood
WHEN mobile service providers introduced SMS as an additional service they had no idea that SMS would provide them with a major revenue source. Seeing the potential of mobile messaging SMS was followed with picture messaging which allowed pictures to be transmitted over mobile networks. To make it more attractive, mobile operators are now introducing the new era of messaging called multimedia messaging (MMS).

Aibo may become man's best friend
COMPUTERISED "pets," such as those coming from Japanese electronics makers, could approach their flesh-and-blood counterparts in providing people with social interaction stimuli, scientists have said. Purdue University is running a year-long study that puts an AIBO robot dog for six weeks in the homes of persons 65 years and older who live alone, said Alan Beck, director of the Centre for the Human-Animal Bond in Purdue's School of Veterinary Medicine.

NIFD raided for pirated software
DELHI Police raided the privately run National Institute of Fashion Design (NIFD) for allegedly using pirated software. The raid was conducted last week at two premises of the institute in West Patel Nagar in West Delhi and Pitampura in northwest Delhi. "A representative of the Adobe Company informed us that the institute was using pirated software to teach its students," a police officer told IANS. Seven computers were seized after the raid.

Technology finger touch away
Sukhpreet Singh
INFORMATION & Communication Technology (ICT) has changed the way we work, the way we communicate and now it is trying to change the way we relate to technology! It is a common sight to see kids and senior citizens use handheld personal organiser using stylus. The technology, which beyond doubt has been able to bridge the digital divide, is all about using the finger or at the most a stylus to view or manipulate information that appears on the computer screen and is rightly named touch technology.

Pornographic CDs sell like hot cakes
Kaveli Bajeli-Datt
IT'S illegal, but the business of selling pornographic CDs is too lucrative for shopkeepers to resist selling them, especially when an ever-ready clientele is fuelling demand in the Indian capital. Delhi Police says the sale and manufacture of such CDs has increased over the years, as it is easy to make mass copies with the help of electronic gizmos.

IT WIT
by Sandeep Joshi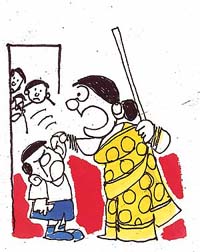 You have scored 2/10 in English dictation again. I warned you not to SMS so much.
Direct cable connection for laptops
Ankur Gupta
TRANSFERRING data from one computer to another can be a major headache, especially when you are working with laptops. Laptops, with their portability, bring the disadvantage of limited storage space and therefore, there is often a need to back up data in laptop. A convenient way of doing this is to transfer the data from the laptop onto a PC. You can then keep a backup on the PC's hard drive or write the data on a CD using a CD writer. Sounds easy.

PC sales set to grow, predicts IDC
AFTER sliding for more than a year, worldwide shipments of personal computers are supposed to swing back into a weak climbing mode in 2002- and leap by more than 8 per cent next year, according to projections from technology research firm IDC.

Dotcoms burst marks new beginning
THE bursting of the dotcom bubble through the disappearance of many of the highly visible dotcom startups and the decline in the market value of its survivors should not be mistaken for the end of e-business. In fact, it is just the beginning.

Despite pact, Vietnam hawks pirated DVDs
EIGHT days after the latest James Bond thriller, Die Another Day, was released in the USA, pirated DVD versions of the movie shot with camcorders were being hawked for a little over $1 in Vietnam's capital. Other major Hollywood films, such as Harry Potter and the Chamber of Secrets, Road to Perdition and Signs are also up for grabs in a nine-square-metre (97-square-foot) shop next door to Vietnam's Trade Ministry office.