M A I N N E W S
PDP MLA Mir shot dead
3 girls fall victim to ultras' diktat
Tribune News Service and Agencies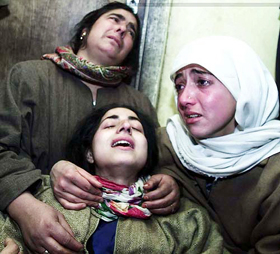 Wailing relatives of the assassinated PDP MLA, Abdul Aziz Mir, at his residence after his body was shifted from SMHS Hospital on Friday.
— Photo Amin War

Srinagar, December 20
In the first direct attack on ruling PDP members, gunmen shot dead Abdul Aziz Mir, MLA from the Pampore constituency, about 15 km from here, in Pulwama district this afternoon.

The incident took place when he was coming out of a mosque after offering Friday prayers at Konibal at about 2.30 p.m. He was seriously injured and was rushed to SMHS Hospital here, where he succumbed to his injuries.

Eyewitnesses said a "pheran-clad" gunman, after firing at Mir from a close range, escaped as people ran for safety. The police said eight security guards of the MLA did not retaliate to avoid civilian casualties. The incident took place when a large number of people were coming out of the mosque.

This is the first such attack on newly elected members of the PDP-led coalition. Earlier the militants had been targeting MLAs and other leaders of the National Conference.

A little-known militant outfit, Save Kashmir Movement (SKM), believed to be a shadow outfit of the Laskher-e-Toiba, has claimed the responsibility for the killing.

A spokesman for the outfit, identifying himself as Sheikh Tajamul, told local news agency CNS that SKM cadres shot dead Mir.

More than 460 leaders and activists of different political parties have been killed by militants since 1989. The highest toll, according to official estimates, has been suffered by the NC which lost 342 of its leaders and activists.

Several political leaders, including Jammu and Kashmir Governor G.C. Saxena, Chief Minister Mufti Mohammed Sayeed and National Conference President Omar Abdullah condemned the killing and said it was a "frustrated attempt of people who were against the return of peace in the state," a report from Delhi said.

Meanwhile, a report from Jammu said, militants killed three women aged between 18 and 20 years at Hasiot village in Thanamandi area of Rajouri

district late last night.

Official reports said a group of militants barged into the houses of Mohammad Akram and Wazir Hussain and dragged Kesar, Shehnaz and Narina Kesar out. While Kesar and Shehnaz were beheaded Narina was riddled with bullets.

The reports said the militants had circulated posters in Rajouri and Poonch districts, urging women to wear burqa and directed male teachers to wear salwar-kameez with a cap.

Elsewhere, at least four persons, including two militants, were killed and two securitymen injured in separate incidents in the valley since yesterday.

The police said two militants of the Tehreek-ul-Mujahideen were killed in an encounter with the security forces at Mirwani in the Kulgam area of Anantnag district yesterday. They had been identified as Ashraf Hakeem and Mushtaq Ahmad Ganai.