Social monitor
Married to non-reliable Indians
Teena Singh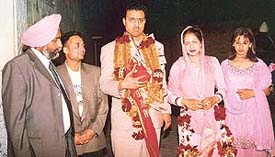 Nalesh Prasad and Neeraj Bala
on their wedding day
SUNEET Kaur's gaunt frame shakes with cries with big sunken eyes and jutting cheekbones looks at me helplessly. Does any party, and politician, any bureaucrat have the intentions to champion the cause of girls deserted by greedy NRIs? So caught up are they in their own petty politicking and oneupmanship and political vendetta. Misguided parents or helpless mothers and siblings hoping for a better future or alcoholic fathers and irresponsible brothers or greedy NRIs (Non-resident Indians)—all contribute to the exploitation of young girls by NRIs in the name of marriage. Left alone, or with children, they look for support from a society that takes pleasure in focusing on issues only for personal gratification.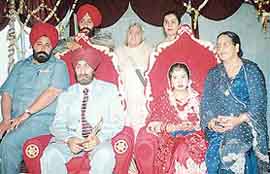 Gurpreet Kaur at her wedding with
Manpreet Singh
From Guddi in Hong Kong, to Manpreet Kaur, to Rajwinder of village Kotli Jamiat Singh or Krishna of village Alampur Chapran—the list is unending.
Mohinder Kaur, Narinder, Gurpreet and Monita Anand are helpless in our society. They are hoping that there truly shall be one amongst us who shall be macho enough to save their honour, and save them from NRIs treating them as mere sex objects for holidays in India in the name of a wedding and walking away with their dignity, wealth and their reputation.
Monita's tale of misery
I, Monita Anand, daughter of Sardar Charanjit Singh resident of Dehra Dun, got engaged on the May 16, 1996, to Manjit Singh Anand, a Green Card holder of Houston, Texas, USA. My engagement ceremony took place in Chandigarh. He has been residing in America for the last 12 years. His parents are staying in Mustafabad, Haryana.
The marriage took place as planned in Chandigarh at the Gurdwara Sahib of Sector 35. On his advice, I applied for the tourist visa to America on August 1, 1997, on the passport bearing my maiden name. At that time, I was four month pregnant. Due to lack of proper documents, however, my visa was refused. During this time I was staying with my in-laws. On September 26, 1997. I applied for the tourist visa once again, on the advice of my husband and, fortunately, I got the visa. I left for the USA on September 29, 1997. I was five months pregnant when I reached America. My husband did not bother about the fact that I was pregnant. He used to ill treat me and even physically torture me. He used to stay out of the house at night for three to four days a week. Due to lack of emotional support from my husband, I called upon my in-laws for help in India. They refused, saying that they had their own responsibilities and could not come. In 1998, my father-in-law and mother-in-law alongwith my sister-in-law and her three children arrived in the USA. On July 23, 1998, they sent me back to India, saying that I would be called back .
The third phase of torture started when my father-in-law and mother-in-law came to India. We all went to Mustafabad. I was not allowed to step out of the house or to speak to anyone, my condition was like that of a maid servant. The torture had crossed all limits. I left in only the clothes that I was wearing as they refused to give me any. My husband threatens me and my father that he intentionally called me on a visitor's visa and will ensure that I am implicated in a 420 case. Today I am completely dependent on my father. My son is four and a half years old. All this was planned by my in-laws. They are also trying to leave India as soon as possible, after selling off all their property.
Manpreet Kaur married Pritpal Singh of Gopalpur, Jagraon, on June 17, 2001. After spending a few months here with her, he went back to Vancouver (Canada). After six long agonising months, his parents informed her that he died on December 16, 2001 and shunned any further contact with her.
Suneet Kaur went to the USA after one year of her marriage. Ill-treated and abused, she has now been sent back and her passport etc has been confiscated by her mother-in-law. Having lost her father as a child, Suneet has a younger sibling and a mother whom she is now trying to support through her job as a college lecturer in Jalandhar. Completely shattered emotionally and having lost all her money to her NRI husband she hopes someone, somewhere, somehow, someday shall do justice.
Gurpreet Kaur married Manpreet Singh Kohli of Ludhiana and is desperately trying to find the strength to fight a hopeless battle against this man, once her husband, who has vanished somewhere in Ontario (Canada) and is now on the look out to bring his parents to Canada after disposing of all property in India.
Narinder Kaur of Jalandhar's husband has changed his identity and gone to Canada. She has to fend for herself and her child.
Mohinder Kaur of Hoshiarpur is being supported by her brother Amarjeet Singh who is living in Amritsar. He is finding it difficult to support his sister and her son, studying in +1. He prays for justice even after she has spent a lifetime after being jilted.
Neeraj Bala married Nalesh Parshad of Jalandhar in 2002. Nalesh was related to an old family friend. It was manipulated that the boy and girl did not meet each other. Every time a date for the meeting was fixed and postponed while marriage preparations were insisted upon. All emotional tactics and pressures were used—from swearing upon Radha Soami Guru to putting turbans on the feet etc. Marriage had 25 milnis all the shaguns and gifts while the boy brought nothing. The in-laws said they wanted the girl to shop later to her heart's content. In the 15 days together, the bridegroom did not even talk to Neeraj Bala, leave alone touch her. Now, they have left for America taking all the dowry and feel no need to even talk to the Indian 'dogs'.
The list of women who have been duped by avaricious NRIs is unending. Various social groups including Mahila, Dakshita Samiti operating in Chandigarh under the dynamism of Pam Rajput, does try and take up an odd case. Pam teaches political science and also heads the Women's Cell in the Panjab University. "Being a part of the women's cell and heading Mahila Dakshita, my focus was already onto women and the violence in their life. Thus the NRI v/s Punjab women scam naturally drew my attention. Attending various conferences on women internationally in the UN, England, Canada and the USA led to more focus on this problem. We remain in constant touch with women centres in Montreal, England and New Jersey. Cases from Punjab are handled by us while the others are passed on to their respective regional or state centres. Unfortunately, there is nothing much we can do as a remedial measure. Our laws have no teeth, no treaties to handle deceitful men internationally. All we manage is some legal guidance for the need to fight and a lot of morale boosting for the frayed soul. To the question, if we can not offer remedies are preventive measures more effective, she replies: "Certainly, in fact we have finalised a module to teach women their rights. May be this awareness shall save many from getting exploited at the hands of selfish parents and greedy husbands". As far as social awareness towards this problem is concerned, Pam says, unfortunately, most daughters remain an unwanted commodity. For parents, if they have let her survive, she just becomes a means to a foreign land. Once they have been married off, they are least interested in her and her pitiable plight. The man she married is her new master. As she recounts, "I know of an Army Officer's daughter, who with great difficulty manage to escape from her basement prison in Canada to ask for help from us and her parents. Her father just refused to reach out. We finally helped her to become self-sufficient. The need of the hour is to inculcate a certain respect for women. From female foeticide, to total disregard of a daughter or a wife's preferences and to the utter submission of our women, irrespective of education, are all symbolic of the abhorrence for the female species. Imagine English was made compulsory some years ago, only to facilitate marriage with NRIs and not with any other states".
Watch out! It's your daughter's life, after all
Address the problem of drink and drugs to cure the hidden economic mess.

Educate and create jobs locally in order to decrease the lure of foreign lands.

Understanding with foreign governments for cancellation of immigration on proof of accepting dowry.

A provision in the Extradition Treaty should enable the Government of India to bring back the guilty groom and face the law.

Compulsory registration of the istri dhan and marriage in the gurdwara.

Immigrant groom should file an affidavit specifying his marital status.

All NRIs to be issued a special entry token on arrival which needs to be submitted back before leaving the country. The marriage could also be registered on it and further computerised.

Any complaint should lead to freezing of local property and barring their re-entry into the country.

Out of lakhs spent on wedding arrangements, parents need to spend an odd lakh to travel abroad in order to check out the credentials of the groom.

Girls need to fight all emotional pressure for such marriages.

Police certification on the correctness and authenticity of the marriage.

Immediate application for married passport and sponsored visa.
What are the reasons for this problem:
Acute problem of alcoholism and drugs is leading to non-earning men.
These men, in-charge of properties and finances, sell lands or borrow heavily, leading to hidden economic failure.
To combat financial crises or to give a direction to a wayward son, the daughters are married to NRIs as a panacea for all the family's problems.
Most wayward NRI grooms are homegrown vagabonds who are just managing to survive in a foreign land and still lust for more money and property from India.
Some of these runaway grooms feel pushed into alliances with homely Indian girls, while they would, any day, still prefer a gori mem.
What is the legal position
Our outdated laws and rulings leave a lot to be desired. However, the court tries to help to whatever extent possible, since the loopholes are many and there is no treaty between nations to solve this problem in a concerted manner.
In one of it's judgments, the Supreme Court elaborated on the problem and did come up with suggestions. In the case of Smt Neeraja Saraph Versus Shri Jayant V. Saraph & Anr.
Before R. M. Sahai & N. P. Singh, JJ, the Honourable Judges of Supreme Court of India decided on 6.10.1994.
R. M. Sahai, J. These appeals directed against the interim order passed by the High Court in an appeal filed by respondent No. 2 against rejection of an application for setting aside of an expat's decree, raises an important issue as how to protect the right and interest of women who are deserted by non-resident Indians on decree of annulment obtained from foreign courts.
The plight of women and their exploitation both inside and outside the house socially and economically is ancient. Mass of literature has been written to elevate their status. But a new social evil is surfacing. Any matrimonial column of any newspaper or magazine carries a column that a NRI seeks Indian bride without any demand. The attraction of getting a groom and that too one who is serving or earning abroad without dowry, lures many, especially from the middle class. Even otherwise, parental insistence for an Indian bride in the hope that his son is not lost forever is not uncommon. The result, at times, is a matrimonial alliance by a reluctant husband to assuage the sentiments of his parents. The victim is the helpless, poor, educated girl, normally of a middle class family with dreams of a foreign land.
In para 3 and 4, the court elaborated in short the story of a MA, B.Ed daughter of a senior Air Force officer, serving as a teacher and drawing Rs 3000 as salary, way back in 1989. The husband of the girl, a doctorate in computer hardware and employed in the USA persuaded the girl to give up her job for better options in the USA. Then suddenly a few months later all contact broke. The father-in-law in question felt agonised enough to criticise his son and write a letter of apology to the daughter-in-law. The court granted this incident as an unfortunate experiment for the father-in-law but helped the girl to get some financial aid in a case vehemently contested by the father-in-law and his son.
In para 5 the court elaborated further why the facts of this case have been narrated in brief with little background is to impress upon the need and necessity for appropriate steps to be taken in this direction to safeguard the interest of women. Although it is a problem of Private International Law and can not easily be resolved, but with changes in the social structure and rising number of marriages of Indian girls with NRIs, the Union of India may consider enacting a law like the Foreign Judgement (Reciprocal Enforcement) Act, 1933 enacted by the British Parliament under Section (1) in pursuance of which the Government of United Kingdom issued Reciprocal Enforcement of Judgment (India) Order, 1958.
Apart from it, there are other enactments such as the Indian and Colonial Divorce Jurisdiction Act 1940 which safeguards the interest as far as the United Kingdom is concerned. But the rule of domicile replacing the nationality rule in most of the countries for assumption of jurisdiction and granting relief in matrimonial matters has resulted in a conflict of laws. What this domicile rule is, is not necessary to be gone into. But the feasibility of a legislation safeguarding the interest of women may be examined by the incorporation of such provisions as:
No marriage between a NRI and an Indian woman which has taken place in India may be annulled by a foreign court;
Provision may be made for adequate alimony to the wife in the property of husband both in India and abroad.
The decree granted by Indian courts may be made executable in foreign courts both on principle of comity and by entering into reciprocal agreements like Section 44-A of the Civil Procedure Code which makes a foreign decree executable as it would have been a decree passed by that court.