M A I N N E W S
20 killed in train mishap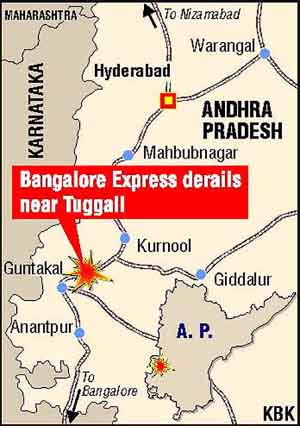 Ramlingayapalli (AP), December 21
Twenty persons were killed and 87 injured when nine bogies of the Hyderabad-Bangalore Express derailed at this remote village in Kurnool district of Andhra Pradesh just past midnight.
Andhra Pradesh Minister for Higher Technical Education Anjayenalu escaped unhurt when the Bangalore-bound train jumped rails 40 minutes past midnight at a spot where the track was found broken, Railway officials said. Anjayenalu informed the authorities about the accident. Two of the bogies turned upside down and a couple more lay on their sides while some others were badly mangled, with one of them mounting on another.
Eyewitnesses said 20 persons were killed. Additional Superintendent of Police K. Prabhakar Rao put the figure at 18 killed on the spot.
The dead included 15 men and four women. Of the 87 injured, six were seriously hurt and 57 suffered minor injuries. Six bodies have been identified so far.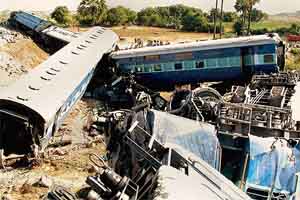 Derailed coaches of the Bangalore Express lie scattered after the train jumped rails near Ramalingaipalli village, about 400 km south of the city of Hyderabad, on Saturday. — Reuters photo
The driver, Koteshwar Rao, who survived the accident, told reporters at the nearby Pendekalu railway station that the derailment took place near a culvert and two bogies fell into it.
South Central Railway General Manager S.N. Singla said preliminary investigations showed that the railway line was broken. The Commissioner for Railway Safety, South Central region, was probing the accident, he added.
NEW DELHI: Prime Minister Atal Behari Vajpayee expressed deep shock and grief over the loss of lives in the train accident in Kurnool district. Mr Vajpayee conveyed his condolences to the bereaved families. PTI