'84 riot widows throng Akal Takht
Tribune News Service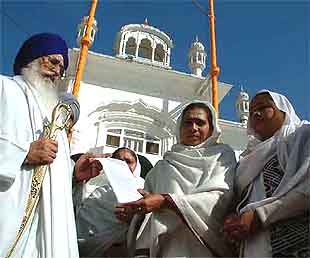 Jathedar Joginder Singh Vedanti accepts a memorandum from widows at Amritsar on Saturday. — photo Rajiv Sharma
Amritsar, December 21
Hundreds of women widowed during the anti-Sikh riots in 1984 today assembled in front of Akal Takht to seek justice from the Sikh clergy. This is for the first time that the widows have assembled in front of the Takht to seek justice.
The widows while wailing sought immediate intervention of the Takht for getting them justice.
The widows forced Jathedar Joginder Singh Vedanti to come out of the Akal Takht secretariat to listen to their grievances in the presence of the "sangat".
He addressed the widows and accepted a memorandum from them. He assured the widows that their case would be discussed sympathetically in the forthcoming meeting of the Sikh clergy on January 23 next year.
The memorandum reads that they (the widows) have to approach the Akal Takht as all their earlier efforts to seek justice did not bear any fruit. They lamented that their pension which was being released by the Delhi Sikh Gurdwara Management Committee was stopped. The memorandum sought directive of Akal Takht to Mr Atma Singh Labana to withdraw all "fabricated cases" registered against certain widows allegedly at the behest of H.K.L. Bhagat, one of the accused of the Delhi riots. They demanded directive against the management of Gurdwara Tilak Vihar for allegedly humiliating the widows on November 3.
The widows expressed concern that the SGPC had never staged a protest dharna in front of the Prime Minister or the President to press the Union Government for taking action against all those who were responsible for the riots.
The widows urged Jathedar Vedanti to press the Delhi Gurdwara Management Committee to raise memorial in the memory of innocent Sikhs who were massacred during the Delhi riots. The widows sought a CBI inquiry against those responsible for the riots.