CONTRACT FARMING
Let firms, farmers deal directly
Sukhpal Singh
CONTRACT farming refers to an arrangement between primary producers and agribusiness firms in order for the firms to procure certain pre-agreed quantity and quality of produce at a particular price and time from the primary producers. It can be a pure procurement transaction or can extend into supply of inputs by the firm or even beyond.
CONTRACT FARMING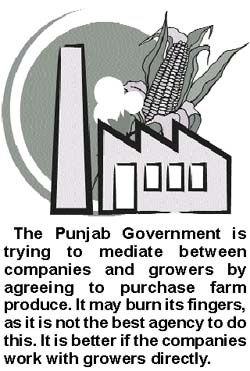 The contract-farming programme launched by the Punjab Government in October 2002 (for the rabi season) is aimed at taking away 10 lakh hectares from the wheat-paddy rotation over the next five years. This year a total of 29,000 acres will be covered under the programme, of which 20,000 acres will be brought under hybrid rapeseed mustard (hyola), 7,000 acres under maize, 1,000 under barley and another 1,000 under various vegetables.
The programme will be implemented jointly by the Department of Agriculture, Punjab Agro Industries Corporation (PAIC) and private companies. The PAIC will not only provide seeds purchased from reputed seed companies like Adventa India Limited and Pro-Agro Limited to the contract growers, but also will buy back the entire produce at pre-agreed prices. For example, mustard procurement price has been fixed at Rs 1,400 per quintal. It will also provide technical supervision and follow up on agronomic practices.
The government will have a say in the control of price structure. Under this arrangement, Tropicana will buy back citrus fruits, UB will purchase barley, and maize will go to another American company. Oilseeds will be bought by local oil mills and solvent extraction units. Vegetable contracting has been contracted out to a local flower and vegetable seed exporting company in Patiala which has the experience of contract farming. These vegetables will be marketed by the Punjab Agri Export Corporation (PAGREXCO).
It is promised in the advertisements issued by the state government that the returns from these crops (mustard, maize and barley) will be comparable to those from wheat, or even higher in the case of vegetable crops. The vegetables being promoted are: green peas, cauliflower, baby corn, sweet corn, green chillies, leak, tomato, knolkhol, lettuce, oregan sugar pads, Chinese cabbage, brocolli, Brussels sprouts, and carrot.
Further, Pepsi Foods has signed an agreement with the PAGREXCO for the procurement of citrus fruit produced under contracts for its Tropicana brand, which is now dependent on imports. Under the agreement, the corporation will coordinate the project on behalf of the state government and import planting material. In case the results are positive, the company would sign long-term contracts with farmers to procure citrus fruits, including oranges and grapes. It also plans to promote mandarin production to replace kinnows. The state government has agreed to invest substantial funds in the project from the crop diversification fund. But it is not known whether the state will share in future benefits from the project. It is also feared that the project may not succeed unless contract farming is legalised.
Even the edible oil industry in the state has taken initiative to increase the oilseed production by taking up contract farming of oilseeds in 1,000 acres in the Fazilka area. The Solvent Extractors Association of Punjab is finalising a project with the PAIC, under which various oilseeds like sunflower, mustard and castor would be produced under contract farming. Similarly, the Cotton Corporation of India will encourage contract farming of cotton in the cotton belt of the state.
It is reported that the area under contract production programme for rabi 2002 has already been achieved. The corporation has already obtained farmer registrations for this programme for the season and, in fact, has online farmer registration forms for contract farming on its Website.
Though contract farming has existed in the state for more than a decade now and was initiated by Pepsi Foods in tomato and chillies in the early 1990s, it is for the first time that the state government has taken up this project with its direct involvement where it will act as intermediary between companies and farmers. It is now part of a larger project on crop adjustment (diversification), which will be implemented over the next five years.
The Thai experience
The Punjab Government's programme is very similar to what has been attempted in Thailand for the past 15 years. Therefore, it is imperative to look at the Thai experience to learn about the implications of this approach.
Thailand has been one of the pioneers in contract farming in Asia, where it has been practised very widely and intensively.
It has been so largely due to the active promotion of this mechanism of co-ordination of agricultural production and marketing by the state since the mid 1980s. Thailand also has the highest degree of private sector involvement in contract farming and the highest concentration of foreign direct investment in agriculture and agro-industry. Contract farming has been a key element of the Thai government's development plan, reflecting a strategy of private sector-led integrated agricultural development.
Thailand wanted the state to make it fair for both the parties. This meant that the state provided incentives to companies which procured through contract farming. State agencies like the Ministry of Agriculture and Cooperatives and the Ministry of Finance invested in contract farming projects through their agencies, i.e., the Department of Agricultural Extension and the Bank of Agriculture and Agricultural Co-operatives (BAAC) with training and extension, and loans to growers, respectively.
The state agencies even designed a model contract farming agreement for companies and farmers in 1999 which, to date, has been used only by a couple of companies. But the contract system on the ground works more by way of mutual bargaining between companies and farmers and is more like an open market system as there is fair amount of competition for procurement in each commodity sector. There is hardly any crop in which contracting is not practised. But, the state has not been able to impact the system despite all plans and programmes.
Though state policy has helped contracting to take roots in the country, now it works between farmers and companies more by way of a market mechanism, and there are all kinds of arrangements in place in the name of contracting. The contracts are biased against the farmer and companies rely on brokers (middlemen) to work with farmers. State intervention has helped the farm sector and its farmers only to the extent that it has promoted competition, which has been beneficial for growers, and has also led to pumping of capital into the farm sector through the BAAC loans for contract growers.
However, on most other counts, like making the system fair for farmers in terms of nature of contracts, or helping farmer organisations in processing or marketing or even in collective selling to companies, it has not really been effective. Contracting is also leading to certain adverse local level impacts like environmental degradation.
This should act as a lesson for the Punjab Government as it is trying to mediate between companies and growers by agreeing to purchase farm produce. The state may burn its fingers by doing this, as it is not the best agency to do this. It is better if the companies work with growers directly to meet their raw material requirements. Otherwise, the entire burden of risk and costs will have to be borne by the state, as was the case in Thailand. It is also important to realise that contracting need not be promoted for all crops, farmers and regions, and the state should play more a regulatory role rather than a promotional role. Farmers' organisations should be promoted by governmental and non-governmental developmental agencies to deal effectively with contracting companies.