Blending tradition with glamour
Parbina Rashid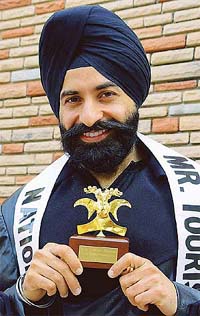 Chandigarh, December 26
Jaspal Sehgal the Grasim Mr India International - 2002, seems to be going through a phase of uncertainty. After proving the fact that one does not need to shun one's tradition to storm the fashion world (for Jaspal never thought of sacrificing his beard and turban for the sake of fashion) by winning the title, this confident young man for once seems to be confused about his future.
First the title of Grasim Mr India Intercontinental and then subsequently two more sub-titles in Mr. Tourism International — 2002 held in Panama in November this year — The Best Dressed Male Model and Best National Costume and the honour of being the first Indian representative in a international pageant in Panama, but the right opportunities are still eluding him.
"I am a confused person till something concrete comes up," says Jaspal who is currently in the city for a family reunion. There are a few projects lined up for him ranging from show anchoring to movies to commercials but Jaspal is waiting for the right kind of roles before he makes a commitment.
The responsibility of being the first turban-wearing Sikh making this far in the world of fashion seems to weigh heavily on him. "I went to set the trend right for every traditional Sikh person by portraying the right characters and because of that I have to be choosy," he says.
His visit this time in the city has another purpose too. "A lot many enquires are pouring in everyday from the Sikh youngsters regarding how to go about in the modelling scene," he says. "So I am here to tell them through you mediapersons that if you really want to make big you just have to go about it. Do not backout just because you're different, be courageous enough to be a trendsetter," he advises.
And the courageous risk that he took at the international pageant paid him well, winning him the Best National Costume award in a country where knowledge about India's heritage or fashion trend was almost zero. "I designed a dress by taking inspiration from Maharaja Ranjit Singh's dresses and fusing that particular style with modern day parallel trousers and shirt in white raw silk teaming it up with a golden scarf around the waist," he describes. Though a business graduate from Canada and involved with in his family's shipping business, Jaspal has always been keen on fashion designing.
"But I am not planning to get into full time designing," he informs. I might be designing for people exclusively but never for the masses, he adds. So we know now what he does not want to do but what about his likes ? "I have got an offer from a Spanish movie and a couple of Bollywood productions which are still in the pipeline," he says.