Karate meet from today
Our Sports Reporter

Chandigarh, December 26
The seventh Sub-Junior and Junior National Karate Championship will begin here tomorrow at Skating Rink, Sector 10, Chandigarh. Stating this, Mr Ravinder Talwar, president of the Sports Karate Federation of India under whose banner this meet is being held, said as many as 24 affiliated units will take part in the championship. The meet will be held under the World Karate Federation rules. Mr Pawan Kumar Bansal, MP, Chandigarh, will inaugurate the meet at 11 am tomorrow.

Shooting tourney:

The second day of the 27th Northern India Shooting Championship in progress at Sector 25 Patiala ki Rao shooting range saw many prominent shooters vying for top honours. In the 10-metre Air Rifle section, the top contenders in the women's section, included Avneet Sidhu of Badal village, Sabeeha Dhillon, Prabhleen Chauhan. At the end of the day, Avneet was leading. The last round for left out shooters of the 10-metre section will be held tomorrow. The events in .22 rifle event were also held today.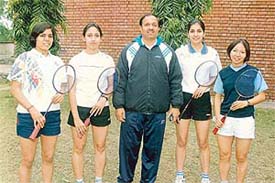 The Panjab University women's badminton team that won the title in the North Zone Inter-varsity Badminton Meet that concluded in New Delhi on Tuesday.

Badminton

tournament: The 14th Chandigarh State Badminton Championship for the session 2002-2003 will be held at Sector 42 Indoor Sports Complex from January 12 to 15, 2003. According to Mr Gian Chand Gupta, President, Chandigarh Badminton Association, the meet will be held in under 13, 16 and under 19 age groups in both boys and girls sections and in men singles, doubles, ladies singles, doubles, mixed doubles, veteran singles and doubles in the above 40 and 50 years category. Entries close at various coaching centres from December 28 to January 5, 2003.

Tokhi to lead:

Gaurav Tokhi will lead Chandigarh hockey team in the 10th Sub-Jr National Hockey Championship being held in Bangalore from December 26 to Jan 3. The other members of the team are: Ravinder Singh, Maheshpal Singh, Sukhmeet Sodhi, Jujhar Singh, Harpal Singh, Mandeep Singh, Sarwanjeet Singh, Gursewak Singh, Sarwan Singh, Jagjit Singh, Sandeep Singh, Khushwant Singh, Sarwan Singh Jr Jaswinder Singh, Baljinder Singh, Kuljeet Singh and Devinder Kumar.

O.P. Ahlawat and Sarvesh Sharma will be coach and manager of the team respectively. The team which play its first match on Dec 29 left for Bangalore today.