This brings me to 88-year old Pritam Singh, known in Punjabi circles as Bhapaji — big brother. Recently he had a very close brush with death. All his long life, he believed if there is anything wrong with your body, like cold, cough or fever, punish it by abstaining from food. A few weeks ago when he felt slightly unwell, so he went on fast. The next day he still felt unwell; so he ate nothing that day as well. He felt no better on the third day and resolved to continue his hunger strike. He got a stroke and was taken to hospital. One side of his body was paralysed and he went into a coma. When he came out of it, visitors asked him how he felt, he muttered wadhia (fine). On his return home, he had a relapse and was taken back to the hospital. He survived and got the better of his paralysis, he speaks audibly and is able to walk without assistance.
The Punjabi literary world breathed a sigh of relief. All best-known Punjabi novelists, poets and short-story writers owe their reputation to this indomitable old man: among others Gurbaksh Singh, Nanak Singh, Mohan Singh, K.S. Duggal, Amrita Pritam and Ajit Cour. He founded Navyug Publishers in 1945 while still working for Gurbaksh Singh of Preet Nagar, now on the Indo-Pak border. He moved to Delhi in January, 1948, and with book publishing started a monthly literary journal Arsee, which soon became the most widely read Punjabi magazine. I have personal reasons to be grateful to the powers that be for sparing bhapaji's life. A year ago he undertook to publish a Punjabi translation of my two volumes of Sikh Religion and History earlier serialised by Punjabi Digest. If Bhapa had gone, my dreams of seeing the major work of my life in my mother tongue would have gone with him.
A versatile singer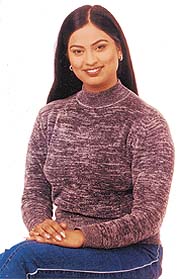 One Sunday morning I was overcome by sloth and did not read, write or try to shake off my lethargy by taking a walk. I simply sat slouched in my arm chair pressing buttons of my remote control one after another hoping some programme would rouse my interest. Suddenly I saw a most garish scene of the Himalayas painted on a screen with Lord Shiva's image hovering over it. There was an enormous crowd of what looked to me like a collection of Punjabi, pot-bellied nouveau riche in starched pink turbans singing bhajans: only Punjabis are capable of making themselves so unattractive. Suddenly there emerged a goddess-like figure chanting hymns in Sanskrit and Hindi. I was entranced. Such beauty! So lovely a voice! And above all, so much animation as I had not seen since I first saw Usha Uthup perform in Bombay 30 years ago. This one was in her twenties with a lovely face and figure and a voice that could match the Mangeshkar sisters. Who was she? I watched her for an hour hoping someone would mention her name so that I could find out more about her. All I got at the end was a portly Punjabi saying dhanyawad to Richaji.
I rang up my friend Kishwar Ahluwalia who was then with 'z' TV. "It must be Richa Sharma," she replied. "We've had her on our programmes. She lives in Mumbai and only comes to Delhi if she has some business." Kishwar had a message sent to Richa Sharma. Perhaps she expected me to arrange a show for her and she rang me up. "All I want is to meet you and talk to you," I told her. She agreed to call on me. A few days later she dropped in with a handsome college lad as her escort.
Richa is the youngest of seven children of a priest of a temple in Faridabad (Haryana), Pandit Daya Shankar Upadhyaya, and his wife Manorma Devi. Singing bhajans, particularly on Mata ke jagran was a part of family ritual. When only eight years old, Richa was invited to sing before religious congregations in and around Delhi. She got herself enrolled in the Gandharva Mahavidyalaya to get proper training in classical and light music. She added ghazals, film songs, Punjabi and Rajasthani folk songs to her repertoire. Academic education had to be sacrificed at the alter of music. In 1994, she proceeded to Bombay to try her luck in Bollywood as a playback singer. And was an instant hit. She went from success to success, singing for Subhash Ghai's films and for A.R. Rehman's Taal. Morani brothers arranged programmes for her abroad; she compered 'Z' TV' Close-up Antakshri. Today this girl from a lower middle-class family with less than modest means has her own flat and car in Mumbai, her own guru, Pandit Askaran, has been signed up for dozens of films, including Kaantey. It has been a hard and arduous journey but Richa Sharma sacrificed college education and matrimony to make it to the top. Amongst her millions of admirers, I am the latest.
Winds of change
On Karva Chauth, my wife would observe fast
Praying that long my life may last!
She would wear a bridal dress
To took like a newly wed, I guess.
Perfumed hair, kajaled eyes and painted face
Jewellery would lend her an added grace:
Every year, from her savings, she would buy
For me a pen, a shirt or a tie!
Times changed and so did she
This year she gave this note to me.
"Excuse me, my darlingm, may I say?"
"What is the sanctity of the Husband's Day!"
"We are equal partners, aren't we, dear,
"Let us have a wive's Day, once a year?"
(Contributed by G.C. Bhandari, Meerut)

Backside wisdom
On the back of a school bus:
"Mainu na chedhen, main bachhian wali haan
(Don't tease me, I have children)
On the back of a truck:
"Ainwen na sadhia kar,
Main kishtan te aaiyee hoi haan."
(Don't be envious of me,
I have come on instalments).
Courtesy: S. Chaudhary, SAS Nagar