Patriotic overdose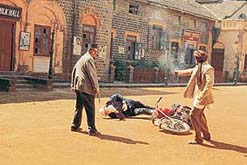 A ban was sought on the slew of films on Shaheed Bhagat Singh
When producer, Iqbal Dhillon's and director Sukumar Nair's Shaheed-E-Azam was released, a demand was raised for a ban on all five films based on the life of Shaheed Bhagat Singh.
The Punjab and Haryana High Court issued notices to the producers of the different versions made on the life of the freedom fighter. A Delhi-based forum also demanded a ban on all the films, accusing the film-makers of distorting history. Despite the hue and cry, The Legend of Bhagat Singh and Guddu Dhanoa's 23, March 1931—Shaheed hit the theatres later.
Music to his ears
Ramesh Taurani, the man behind the Tips music company, faced a legal battle for nearly five years for the Gulshan Kumar murder. In 2002, he finally emerged triumphant. The people in the music industry were always amazed that even the midst of controversy Ramesh Taurani had a smile on his face, as if he was untouched by the controversy. Now the charges against him have been dropped and he has been exonerated of the charges. Ramesh Taurani's music company is still number one.
Salman's bash-ing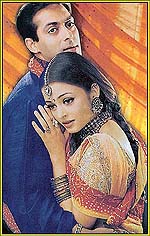 Salman Khan ended up on the wrong side of law when his car ran over a pavement dweller
Every body has fights. The biggest stars fight but Salman Khan makes headlines when he is free with his fists. He was in the headlines after a showdown with Shah Rukh Khan on the sets of Aziz Mirza's unreleased new film. Another controversy which triggered off a storm of protests and public outrage against Salman was the charge of rash driving and causing death by negligence. On September 28, the Toyota Land Cruiser driven by him ran over one person and injured another four others. The actor was booked under Sections 279, 304 A and 388 of the IPC. He was released on a bail of Rs 950 but was re-arrested under Section 304 Part (II), IPC. Salman Khan's fourth bail plea was rejected on October 21. The actor was remanded in judicial custody till October 31. Though Salman Khan has been released on bail, producers are not showing any interest to sign him for new projects.