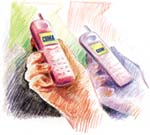 WiLL CDMA pip GSM?
Nalin K. Rai
Telecom genie has been uncorked for India in the real sense of terms exemplified by the fact that from just one or two cellular operators for a circle, the vie-for-pie has become so big that now four players have stepped into the ring. With the advancements and evolution of technology the cellular operator also has been given an option to go in for either of the multiple technology platforms being sold by the developers.

UnWiLLing residents of City Beautiful
IN a recently conducted study among cellular users in top 10 cities, GSM users in Kolkata shows maximum inclination to try WiLL. As high as 45 per cent of GSM users in Kolkata are "highly willing" to try WiLL, against the average of 21 per cent at overall level (all 10 cities put together).

Do cellphones cook up the brain?
Kanwar Vikrant
JUST by their basic operation, cellphones have to emit a small amount of electromagnetic radiation. Cellphones emit signals via radio waves, which comprise radio frequency (RF) energy, a form of electromagnetic radiation. A lot of talk going on whether or not cellphones emit enough radiation to cause adverse health effects.

Itís romantic, she says; Boring, says he
THE visual message is as powerful and popular as voice. Thatís what Samsung survey on SMS has revealed. The company, after deciding to launch SMS-friendly phones, initiated a survey, Samsung N500, covering Delhi, Mumbai and Bangalore. The target audience was a mix of students, professionals across both genders.

MMS set to take off in 2003
Harpreet S Jatana
ONE of the hottest topics these days is Multimedia Messaging Service (MMS). As always, MMS is widely tipped as a key killer app that will break the largest digital cellular segment in the world out of the staggering voice rut and set it firmly in the direction of proper 2.5G data.

Want a child? Try robot first
IT'S kind of a familiarisation programme. Think of it. Couples uncertain over a "kid or not" question may in the near future be able to have a trial run with a child-like robot provided they can shell out Aus $ 80,000. This will be a Sony gift. The Japanese technology giant wants to follow up its success story of the Aibo robotic dog with a 60cm humanoid robot called Sony Dream Robot, SDR4X.

E-comís uphill journey
ALTHOUGH the number of e-commerce providers is growing, it has yet to be matched by the consumer growth as several hurdles are blocking its popularity in the country, says a report. Low rate of personal computer and the Internet base, telecom infrastructure, lack of security and high access costs are the major hurdles for the e-commerce sector in the country.

Actor and producer platform
A new Web portal, indoscreen.com, has been launched here to provided simple, and effective link between the film industry and the talents who aspire to build up a career in the industry.

IT WIT
by Sandeep Joshi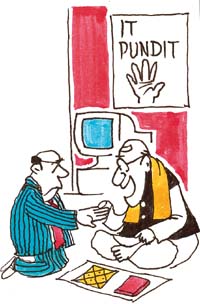 For better results, perform anti-virus havan, PC puja and spam mail blockade yajna in 2003
Googlevolution is here
John Naughton
IT'S one of the wonders of the age. You type a few words into a text box on a screen and it ransacks the biggest index in the history of the world and comes back - usually within a second or two - with the text and source of a quotation, or a Web page giving advice on troubleshooting that malfunctioning video recorder, or an article which appeared in the Boston Globe three years ago, or a million other things about which humans are curious.

India launches supercomputer
Imran Qureshi
INDIA has beaten export control restrictions by the USA to announce the launch of the Param Padma, to date the most powerful supercomputer the countryís scientists have indigenously produced.

Blocking calls to call centres
Sumeet Chatterjee
THE New Jersey Senateís decision to pass a new Bill that seeks to ban outsourcing of government contracts overseas, particularly to countries like India, has been received with caution by Indian IT companies. A section of the high-profile technology industry feels the promulgation of the law would not have an impact on profitability of Indian firms as very few companies undertake outsourcing activities for public enterprises in New Jersey.

Damn that spam
Frederick Noronha
THESE e-mails provide sex products you never ordered, offer you hundreds of gifts and freebies, and take up valuable account space ó welcome to the annoying, fast-growing world of junk mail. Spam, as junk mail is called, began innocuously enough some seven years ago with Internet users receiving bogus offers like the US Green Card Lottery. Today it has grown to be an e-menace that knows no geographical boundaries.