M A I N N E W S
Will USA strike Iraq on Feb 21?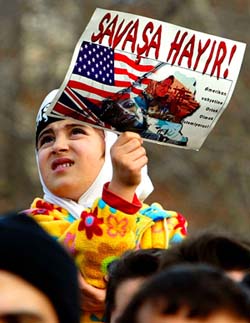 A girl appears over a crowd holding a banner reading "No to War" in Turkish during an anti-war rally in Istanbul on Sunday, in which some 2,000 protesters demanded Turkey not to assist the United States in the event of war in neighbouring Iraq. US Treasury and State Department officials said they had discussed economic aid for close ally Turkey to reassure markets and ensure stability in the event of a war in Iraq. NATO member Turkey is expected to permit use of its air bases and give other logistic support though it wants to avoid a war, fearing it would spread turmoil in the region. — Reuters photo
London, December 29
The US-led war against Iraq may start on February 21, a leading British tabloid claimed today.
"President George Bush has told Israeli premier Ariel Sharon that the midnight of February 21 will mark the start of the most devastating air strikes the world has seen," The Sunday Express reported.
Mr Bush told his ally in a phone call on Christmas that the plans for the air raids against Saddam Hussein's military infrastructure have already been fed into the US strike force computers, it said.
The timing is confirmed by British defence chiefs, who have been told to expect war in the second or third week of February.
The unprecedented aerial war is sure to quicken the pace of the refugee exodus and an estimated 110,000 Iraqis, mostly Kurds, are expected to flood into Britain.
According to the report, about 10,000 Iraqi Kurds have already gathered on the beaches of Bodrum, Izmir and Ayvalik to cross into Greece, from where they can easily reach Britain.
Greek officials say another 100,000 are set to join the exodus if war begins, dwarfing the 92,000 asylum seekers who entered Britain last year. PTI