M A I N N E W S
Troop mobilisation high point: Padmanabhan
Says Pak unfortunate to have Pervez as Army Chief
Tribune News Service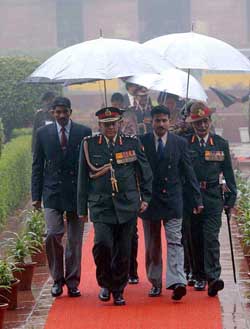 Outgoing Chief of the Army Staff General S. Padmanabhan with his successor General Nirmal Chandra Vij after inspecting the guard of honour at North Block in New Delhi on Tuesday. — PTI photo
New Delhi, December 31
Outgoing Chief of Army Staff (COAS) Gen S. Padmanabhan said today that Pakistanis were "unfortunate" to have General Musharraf as the chief of their army.
Talking to media persons after his farewell ceremony, General Padmanabhan, who retires after 40 years of distinguished service, said, "Our neighbours are unfortunate to have General Musharraf as the chief of their army".
Earlier, Lt-Gen Nirmal Chander Vij, Vice-Chief of the Army Staff, took over as the Chief of Army Staff. He will assume office tomorrow. At a simple ceremony, General Padmanabhan personally put the insignia of full General on the uniform of General Vij.
On any message for the Pakistan President, he said, "I cannot comment on his position as the head of state."
Asked about his biggest achievement as the Army Chief, General Padmanabhan said, "The smooth manner in which the one million strong Indian Army was mobilised after the Parliament attack was the high point during my stint as the COAS."
The redeployment was also carried out in a similar smooth manner and the Indian Army should be congratulated for its effort, he added.
"I also thank the Navy and the Air Force for complimenting our effort during the deployment along the international border and the Line of Control," General Padmanabhan said.
On his message for General Vij who will take charge as the COAS tomorrow, he said, "General Vij, who has been the deputy Army chief for more than a year now, is a very fine officer and a soldier. He needs no special message."
"We have been discussing the present situation, ...specially after the redeployment, on how to prepare the Army for any such future contingencies," General Padmanabhan said.
On his post-retirement plans, he said, "I am going back to Kerala where I will be busy setting up my home."
Yesterday, General Padmanabhan was given farewell as Chairman of the Chiefs of Staff Committee (COSC) and handed over the baton to the Chief of the Naval Staff, Admiral Madhvendra Singh, who will be the new Chairman.
During his long and distinguished career spanning 40 years, General Vij has worked in a variety of command, staff and instructional appointments.
General Vij was the Director-General of Military Operations (DGMO) during the Kargil conflict in 1999. He took over as the Vice-Chief of the Army Staff in October, 2001. He was awarded the Uttam Yudh Seva Medal in 2000, the Param Vishisht Seva Medal in 1999 and the Ati Vishisht Seva Medal in 1997.