M A I N N E W S
Cell operators slash STD charges
Long-distance call to cost Rs 2.99 per minute
Tribune News Service and PTI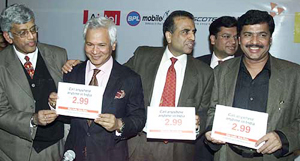 Union Communication and Information Technology Minister Pramod Mahajan along with private mobile operators Sunil Mittal of Bharti Telecom, Asim Ghosh of Hutch, and T.V. Ramachandran, secretary-general of COAI, announcing the new rates at a Press conference in New Delhi on Thursday.

— PTI photo
New Delhi, January 2
Cellular operators today slashed STD rates to Rs 2.99 per minute from a peak Rs 9 charged for distances above 500 km that may trigger a price war with basic telecom operators.
As per the new package, announced by Communications Minister Pramod Mahajan on behalf of the Cellular Operators Association of India (COAI), STD charges on mobile-to-mobile would be the same across the board with an exception of distance up to 50 km where tariff would continue to be Rs 1.20 per minute. The rates do not include airtime.
The new tariff package which fell below customer expectations in the wake of tariff war between basic and cellular operators, would come into effect from midnight and is expected to benefit one crore cell users in the country.
So far operators charged Rs 2.40 per minute for distances between 50 to 200 km and Rs 4.80 per minute for up to 500 km.
Amid reports that consensus eluded the operators on allowing free incoming calls, cellular companies said more announcements would be made on a weekly basis on the tariff front as part of efforts to hold on to their market share of one crore subscribers.
The new package was announced by the cellular operators, including Bharti, Hutch, BPL, Escotel and AT&T, despite they suffering accumulated losses of Rs 8,000 crore.
Mr Mahajan told reporters that the government was committed to providing a level playing field to all operators who came to it with their problems.
On some of the issues raised by the cellular industry like the availability of spectrum, access charges and interconnection between operators of different types of services, he said the government was aware of the problems and would like to resolve them in a cordial manner.
On the spectrum availability, he said: "We shall not allow any cellular operator to become a loss-making entity just due to shortage of spectrum."
The minister announced that a separate committee would be formed to look into the issues and formulate a policy that with the increase in the subscribers the additional spectrum was automatically allotted to an operator.