Artificial seeds on the way
Foja Singh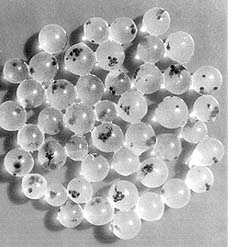 Artificial seeds
ARTIFICIAL seeds have been proposed as a new low-cost, high-efficiency propagation system. They have opened new avenues in storage and delivery of new plant lines produced through biotechnological advances. The main advantage of the system is the combination of high-volume production and low-cost propagation. Encapsulation of cells, embryo, somatic tissue and somatic embryo have been attempted in several crops and has became increasingly popular as a simple way of handling cells, tissue and embryo and protecting them against external gradients and as an efficient storage and delivery system. The acceptance of the technology, however, depends on the value of the propagated crop and the cost of competing products, the use of artificial seeds also depends on advances in areas of faster delivery system and development of superior crop lines through genetic engineering.
The concept
The concept of somatic embryo encapsulation to produce an analogue to true seeds is based on the similarity of somatic embryos (SE) with zygotic embryos in terms of morphology, physiology and biochemistry. The gross morphology of somatic embryos is very similar in appearance to zygotic embryos. An important difference between somatic and zygotic embryos is that the latter typically ceases growth, becoming quiescent or dormant as water is lost, storage tissue matures, and the seed coat hardens. This arrested growth phase is a major factor accounting for efficient storage and handling qualities of natural seed. A similar arrested growth phase induced during somatic embryo development will be essential to match the efficiency of seed propagation and would be a pivotal step in the development of artificial seed technology.
The term artificial seed was coined by Murashige in 1977. The technique was later perfected by Redenbaugh and his coworkers from Plant Genetics Incorporation, California, and Kitoo and Janick from Purdue University. The technology was patented in 1988 by Redenbaugh et al. In India the technique of encapsulation of somatic embryos is used in many modern research laboratories.
Advantages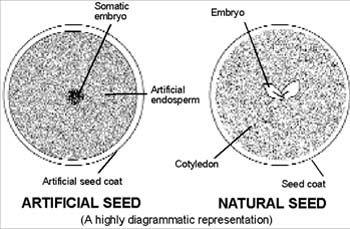 The essential advantages of artificial seeds are:
—Economy in space, medium inputs, better cost-benefit ratio.
—Potential delivery system.
—Alternative to high-cost vegetative propagation technologies.
—Direct sowing is possible with the seed sized propagules, thus eliminating the acclimatisation step normally required in transplanting of mericlones.
—Uniformity in production is possible because somatic embroys are genetically identical; by contrast zygotic embryos contain unpredictable mixture of parental genes.
Because of relative ease of producing large number of artificial seeds, they can be used in monocultures as well as mixed genotype methods of commercial planting.
Production
Artificial seeds are basically of two types, hydrated seeds and desicated seeds.
Hydrated seeds: The system consists of somatic propagules (embryo or shoot buds) encapsulated in a hydrogel like sodium alginate, gelrite, agar, carregenan, etc. The most common gelling agent is sodium alginate with complexing agent as calcium salts.
Somatic embryos are sieved from the suspensions cultures, mixed with sodium alginate and dropped in calcium chloride solution. When sodium alginate drops come in contact with calcium chloride solution, surface complexion begins and firm round beads are formed, each containing 1-2 propagules. These beads are allowed to stand for 60-90 minutes and washed with water, air dried and stored at 4°C. Axillary, apical/adventitious buds can also be encapsulated in this method. The buds are trimmed to the smallest possible size and mixed with sodium alginate.
In the second method, propagules are mixed in temperature-dependent gels such as Agar, or Gelrite and gelled to form capsules by lowering the temperature.
Desicated artificial seeds: In this method the artificial seeds are produced by coating a mixture of somatic embroys or shoot buds with polyethylene g1ycol (PEG). The coated mixture is then allowed to dry for severa1 hours on teflon surface under sterile conditions. The dried mixture in the form of wafers is then p1aced in vitro in the culture medium, allowed to re-hydrate and stored for embryo survival and conservation.
Hydrophobic coating: New compounds have been tried for hydrophobic coating of artificial seeds. A recent compound, EL vax 4260, manufactured by Dupont has shown significant impediments to capsu1e drying. This compound also reduces the stickiness and beads can be planted using a seed ptanter. Conventionally the beads can be rolled in talcum powder to make them flowable and store for a short period in culture room.
Applied
Artificial seeds have been successfully produced in the following crops for commercial use:
Alfalfa, Apium graveolens, Cymbidium (orchid), Daucus carota, Dendrobium (orchid), Dioscorea ftoribunda, Gossypium hirsutum, Medicago sativa, Morus indica, Picorrhiza kursoa, Pogostemon patchouli, Phalaenopsis (orchid), Rheum emodi, Santalum album, Spathoglottis plicata (orchid), and Neem (Azadirachta).
The concept of artificial seed is in its infancy. There is an immense potential for the use of this technique for the propagation and preservation of elite germplasm.
Once the technique is perfected it will be a boon to the seed production industry. Use of artificial seeds will become popular for green house production. Additional studies, however, will be needed to understand hardening treatments, coating, duration of storage, embryo conversion frequency, and most important the economics of artificial seeds as compared to natural seeds.