Ludhiana shivers at 3.9°C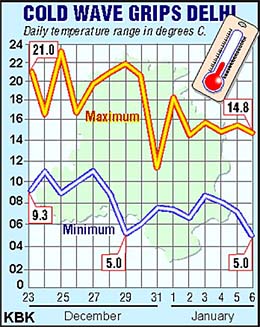 Chandigarh, January 6
Most places in the northern region remained engulfed by dense fog today adversely affecting the normal life even as the Met Office predicted no respite from the ongoing cold conditions for at least next two days.
"It is unlikely that weather is going to change for at least next two days in the plains of Punjab and Haryana and we should expect some fog in the morning and towards late evenings while days will also remain cold," Director of the Meteorological Department S.C. Bhan said.
Amritsar again witnessed a cold day today recording bone chilling maximum of 9.4°C while the low settled at 4.2°C. Ludhiana had a high of 12.9°C and a low of 3.9°C. Patiala was also cold recording a high of 12.5°C and a low of 4.5°C.
Bad weather once again forced cancellation of Indian Airlines' flight from the city to Goa and Jet Airways' flight to Mumbai. "In fact, we have been able to operate our flights only on one day in this year, which was on Friday. For rest of the days, the flights had to be cancelled due to bad weather," IA's station manager B.P. Nautiyal said.
A cold and cloudy day greeted Chandigarh residents this morning and the day temperature was recorded at 15.8°C while the low touched 8.0°C. However, the sun broke through the clouds late in the day, but failed to provide much warmth.
Srinagar shivered after recording a low of 5°C below the freezing point as cold wave swept most parts of Kashmir valley. Jammu also had a cold night at 4.8°C.
Ambala and Hisar in Haryana, too, had little respite recording minimums at 5.0°C and 5.8°C, respectively . Ambala had a cold day at 14.0°C maximum.
Shimla enjoyed a sunny day today and the maximum touched 16.0°C while the low was recorded at 6.8°C. However, many other towns in Himachal Pradesh reeled under severe cold. Bhuntar recorded a low of minus 1.0°C and Sundernagar saw the low drop to 0.1°C.
According to the Met Office, fog was observed this morning at places, including Udhampur, Jammu, Amritsar, Bathinda, Pathankot, Adampur, Halwara, Ambala, Chandigarh and Sirsa.
A Sonepat report said poor visibility caused due to dense fog disrupted the rail traffic and almost all long distance mail and express trains passed through the town several hours behind schedule.
Most of the suburban trains originating from Delhi, Panipat and Kurukshetra also ran behind schedule by up to an hour, causing inconvenience to the daily commuters. The traffic along the National Highway number one was also affected due to fog, the report said. PTI