Advani: deport overstaying Pakistanis, Bangladeshis
Tribune News Service
New Delhi, January 7
Stating that illegal overstay of Pakistani nationals and Bangladeshis posed a serious threat to the national security, Deputy Prime Minister L K Advani today asked state governments to launch "special drives" to detect and deport them.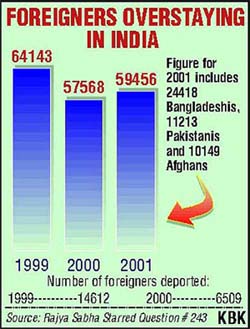 As many as "11,500 Pakistanis have come into the country with regular papers and passports but have overstayed. There is no reason why our states should be soft on them," he told newspersons after inaugurating a conference of state Chief Secretaries and DGPs here.

"Immediate steps should be taken to identify them, locate them and throw them out. They (states) should launch special drives to detect and deport these foreigners," Mr Advani said, pointing out that powers of the Central Government to detect and deport illegally residing foreign nationals had been delegated to states and union territories.

Voicing concern over the "serious problem" of illegal immigration from Bangladesh, he said: "This problem also needs to be tackled firmly by all state governments". He also asked the DGPs to present figures of how many illegally overstaying Pakistanis were traced last year.

Mr Advani said the Centre was seriously considering preparing a national register of Indian citizens and issuing to them multi-purpose national identity cards (MNICs). "These would provide a credible individual identification system and also act as a deterrent for future illegal immigration."

Allaying fears from some quarters about such cards, Mr Advani said: "With advanced technology that we have, we can successfully implement this".

On Pakistan-sponsored cross-border terrorism, he said Islamabad's main intention was not to get Jammu and Kashmir but destabilise India.

"Secularism and democracy have taken roots in India and this has become an eyesore for

our western neighbour which feels that it cannot live together and alongside with such a system," he said.

Observing that Pakistan launched the proxy war after having been defeated in direct wars with India, Mr Advani said Islamabad "will not succeed in its attempt to destabilise India".

Asserting that every effort should be made to defeat and eliminate terrorists, the Deputy Prime Minister said focus should also be on those people who functioned within the country and made it vulnerable to terrorist designs.

Saying that India had formed joint working groups with several countries to combat terrorism, he said "no country however big and powerful it may be can feel safe from terrorist activities. Attacks on the USA have proved this. All countries should join hands to fight the menace".

A multiple agency centre (MAC) has been formed in the Intelligence Bureau to effectively monitor, detect and crack terrorist modules across the country.

Director of the Bureau K.P. Singh told the conference that the MAC would serve as a data bank of vital information, besides helping state police forces and other agencies in the matter of detecting and cracking terrorist modules, a PTI report said.