SCIENCE & TECHNOLOGY CROSSWORD
Clues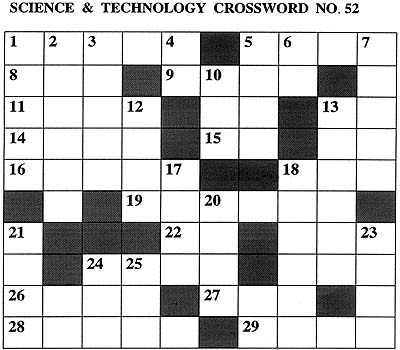 Across :
1. This ray is in-fact an electron ejected from an atom of a fast moving ionizing particle.
5. Dark thick sulphurous fog polluting the atmosphere of industrial cities.
8. Abbr. for initial teaching system that helps people in learning English.
9. A unit of mass in fps system equal to 32.174 lbs.
11. A circuit with only one output but more than one inputs.
14. Plant of genus including holly.
15. Symbol for Gadolinium.
16. Intensely poisonous substance produced by certain bacteria.
18. Simple lipid of various glycerides of fatty acids.
19. This generator has two Van der Graaff generators in series thus producing double energy.
22. Symbol for Nobelium.
24. Hard fibrous substance obtained from trunks of trees.
26. A standard such as a bye-law.
27…logy deals with relationship of organisms with their surroundings.
28. Difference in days between length of a solar year and a lunar year.
29. A periodic increase or decrease in loudness heard when two notes of nearly same frequency are sounded together.
Down :
1. One twelfth of diameter of Sun or moon, used to denote the extent of eclipse.
2. An interferometer used to study fine spectrum lines.
3. A milky fluid produced by certain plants.
4. Symbol for Arsenic.
5. An irrational quantity.
6. Symbol for Magnesium.
7. This star has high luminosity, low density and size many times that of sun.
10. Non conducting cover of a boiler.
12. An opening in a building to go out.
13. A finely ground oil paint having a resin.
17. Prefix denoting one thousand millionth.
18. Outer circle of a wheel attached by spokes.
20. Point of zero displacement in a system.
21. A hypothetical unit controlling individual characteristics of an organism.
23. This is formed when malt is mashed during brewing process.
25. Short for Optimum Moisture Content as used in Soil Mechanics.
Solution to last week's Crossword: