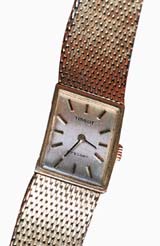 The Tissot presented by Pierre Jeanneret

We owe human civilisation, according to contemporary anthropology, to the attempts of early human beings to measure time more than 5,000 years ago: what appear to be decorative incisions on bones found in Africa have been interpreted as the first calendar entries, recording observations of the moon. One thing is certain: until technology superseded the sundial, which might be called a natural clock, a measurement of time both united and divided all mankind.
Compared to the approximately 700-year history of the mechanical wheel clock, the chronicle of the wristwatch seems quite modest at first glance. The 'normal' watches attached to bracelets or chains are known to have been made at various times beginning in the year 1571, while the "wristwatch" is mainly a product of the 20th century.
Around 1880, the firm Girad-Perregaux delivered the first mass-produced watches for German naval officers to wear on chains around their wrist, but like their descendants in the first decade of this century we cannot deny their close relationship to the pocket watch: shaped round or oval.
However, styling of wristwatches produced during that period was similar to that of pocket watches - the "12" was located by the winding stem as it had been in pocket watches. The first "Omega" wristwatches, which came in the market in 1905, had the winding stem by "9" since it was better protected from damage there.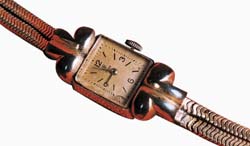 A delicate Rolex Tudor
With precisely the outbreak of World War I in 1914 and a quick direct impact in Switzerland, onto the market came wristwatches with protective grids over the glass (Trench Watches) with additional compasses, radium dials and hands, 24-hr indicator and chronographs. All of these were based, to a great extent, on the pocket watch.
Meanwhile, in France (1907), a wristwatch that no longer relied on the pocket watch for the styling had been created by Louis Cartier. The model created was "Santos". The model was created for Brazilian aviator Alberto Santos-Dumont for ease of reading time while handling controls of his aircraft. This achievement was followed, some years later, by the model "Tank," based on a British vehicle used in a battle in 1916.
Finally, in the period before 1919 several Swiss watch-making firms were founded, contributing towards the worldwide success of the Swiss wristwatch.
By the 1920s, a technical innovation first appeared in the wristwatch and in the way it was being worn. An Englishman called John Harwood first introduced automatic winding.
Another milestone in styling of wristwatches was set by Hans Wilsdorf with his Rolex wristwatches, produced in Switzerland and sold in Britain around 1908. By 1926, Wilsdorf and his firm were able to patent the dust and waterproof "Oyster" case.
In 1930, the wristwatch had won a firm place on the wrist of people of different nations and professions. The trends set by film actors made a particularly broad impact.
In 1932, Rolex Montres, Wilsdorf patented internationally soundless and shock proof "Perpetual".
The close relationship between the wristwatch and fashion trends, the spirit of times, and requirements of the world market became clear at the beginning of the forties.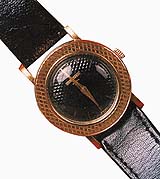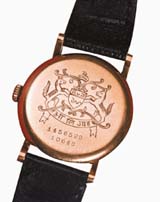 The front and reverse side of Universal Geneve: A gift by the Scindias

When short skirts and high-combed hairstyles prevailed in women's fashions, another optical trick appeared in the watch designs. Arched or faceted crystal watch glasses, as thick as possible, were used which continued and completed the form of the case. Also around that time precious metal like platinum began to become popular along with gold for watch manufacturers.
The end of World War II led to the rapid re-appearance of a wide variety of luxury "civilian" wristwatches. Useful add-ons, including the calendar and moon-phase indication, "perpetual" calendar, were offered. Then in 1948, the Swiss watch industry, in its endless realm of inventiveness, found an observation watch: a running reserve indication combined with self-winding.
In 1945, Rolex celebrated its fortieth anniversary by bringing out a legally protected Model 4467 "Datejust", a wristwatch with automatic winding, central second, digital date indication and a watertight case.
In the realm of complicated wristwatches, the fifties and then the sixties brought a vast variety even for the "common people". Along with automatic-winding wristwatches, there were other varieties too - wristwatches with digital date and day indication.
The first decade of the sixties showed a trend back to straight lines. Square and rectangular cases came back into fashion, sometimes with structured surfaces and wide-glass rims. The end of the sixties encountered another transitional product: the quartz calibres. Some of the other trends recorded were:
… the glorious entry of the electronic quartz watch saw the step-by-step retreat of the mechanical wristwatch. Great investment in technical innovations came to a stop.
… there arrived the digital multifunctional time piece, lacking all charm but announced every hour by a penetrating beeping.
… reappearance of the beautifully formed round wristwatch with time indication, the moon phase and the chronograph - all that had all been there before - with new quartz technology inside or with mechanical movements.
… came the colourful plastic wristwatch —- the Swatch and whatever other name it went by — to set up a new wave of fashion; the wristwatch a la mode, the colour to match any clothing, the right structure, moderately priced and nice to look at, a worldwide success — the designers really had their hands full.


Exceptional horological works of art
Here are a few world records established at watch auctions:
Patek Philippe, Ref. 1415HU c. 1939. Probably unique platinum "World Time" wristwatch was sold for SFr. 6'603'500 / US$ 4,026,524. World Record for Any Wristwatch.

Patek Philippe, Ref. 2499. Highly important, 18K pink gold, gentleman's wristwatch with perpetual calendar, chronograph and pulsometer dial was sold for SFr. 3'193'500/US$ 2'129'000. World Record for this reference.

Breguet, No. 1188, sold to Don Antonio of Spain on August 1, 1808, for 3600 francs. Exceptionally fine and extremely rare Garde Temps four minute free-sprung tourbillon regulator, with escapement "naturel" sold for SFr. 2'148'500/US$ 1'432'300

Breguet, Ref. 343, made in 1948. Unique stainless steel military wristwatch with coaxial button chronograph on the winding-crown sold for SFr. 234'500/US$ 156'300. World Record for a military wristwatch

Cartier "Tortue" Minute Repeater, produced in 1929. Exceptional and unique art deco, minute-repeating, 18K yellow gold gentleman's wristwatch sold for SFr. 993'500/US$ 662'300. World Record for this reference.
Rolex Cosmograph with Pulsometer Dial, Ref. 6239. Extremely fine and probably unique, water-resistant, stainless steel gentleman's wristwatch sold for SFr. 80'500/US$ 53'700. World Record for this reference.
Romancing the wristwatch
We discovered that in Chandigarh there are a few people who have in their possession a treasure trove of old watches.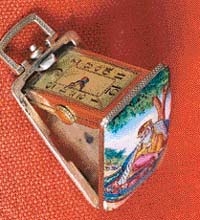 A pendant watch with the portrait of Guru Nanak Dev
(Photos: Baljit Singh)

Baji Rao Rajwade has what is possibly the largest collection of Omega heritage watches all over 40 years old. Amongst them are:
A superb "Universal Geneve" which was presented to his grandfather by Maharaja of Scindia. The delicate inscription on the back of the watch speaks of its rich heritage.
A beautiful tiny Omega that belongs to his mother. It has the smallest movement ever made at that time.
The majestic Gold Omega Constellation, which was given to Rajwade's father when he finished schooling in Gwalior about 60 years ago.
Bonny Sodhi owns a beautiful Tissot that was sent to her from France by Pierre Jeanneret in 1962. Jeanneret was the chief architect of Chandigarh along with Le Corbusier. She also owns a glorious pendant watch which is over a 100 years old with a fine enamelled portrait of Guru Nanak Dev. The origin of this masterpiece is not known.
Then there is a delicate Rolex-Tudor wristwatch, which belongs to Lakhinder Nakai. Her husband gave this beauty to her soon after they got married in 1951. It was bought for the princely sum of Rs 900 at that time.