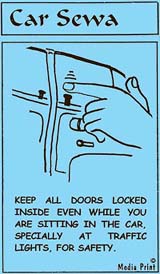 Chandigarh is building new roads for cycles and rickshaws. Soon the congestion and chaos that exists today will ease up. Motorised traffic will be segregated from non-motorised traffic. However, the situation will remain unchanged at roundabouts. This is where the driver can make his contribution. We can ease the traffic situation further by being better drivers. By being thoughtful, disciplined (is that asking too much?) and polite. By obeying road rules and displaying proper etiquette and attitude.
There is talk in Chandigarh about replacing the beautiful roundabouts with traffic lights. If more roundabouts disappear like the ones which were at Press Chowk and Transport Chowk, it will be you the driver who will be responsible for it. If we drive properly, going around a beautiful roundabout can be a fine experience ó just stick to your lane, donít try and overtake. And leave those indicators alone. No two Indian drivers agree on the correct use of indicators.
Happy motoring!


Smile and be polite!
In the hope of making Chandigarh roads the safest in the country and, consequently, fun to drive on, the following are a few New Year resolutions which we could make and make our contribution as concerned citizens.
I will smile and wave "hello" to all other motorists. I experienced this in Canada last summer. Everyone lets the other motorist pass. One waves a "thank-you", the other waves a "youíre welcome". They both smile at each other. It works.
I will use the seat belt at all times.

I will use a helmet on a two-wheeler.

I will not drink and drive.

I will not jump a red light (This is for your own safety).

I will drive on low beam.

I will not use a cell phone while driving.

I will not smoke while driving.

I will respect and give way to slower traffic (man-drawn), to the elderly, the handicapped, to children ó everyone!

I will obey stop signs.

I will give priority to vehicles on my right.

I will give priority to ambulances, and fire and police vehicles at all times.

I will use my exterior mirrors.

I will observe zebra sign rules.

I will use headlights on low beam on days with bad visibility.

I will obey all road rules!
If each driver in Chandigarh observes only one or few of these resolutions, our roads will become better and safer overnight.