Survival strategies
Breaking bonds that have turned into binds
Rajshree Sarda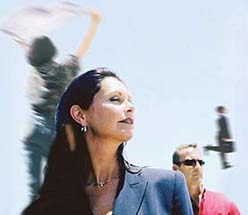 SO you are enchanted by your new love interest. He can do no wrong in your eyes. Through your rose-coloured glasses, this person looks nearly perfect, lovable, smart, honourable and down right irresistible. But let's fast-forward a year or so. The impeccable love seems to have developed warts. Perhaps, his temper is atrocious or he has a streak of selfishness. May be he is a control freak or some kind of an addict. You are disillusioned and crushed. How could you have been so wrong? Were you a victim of his charming personality or enchanted by the spell of romantic illusion?
Kavita went through something like this in her relationship with Raghav. "I was in a bad relationship but couldn't get myself to break up. Initially, he was bubbly, caring and carefree but soon he was changing. If I had a problem he always dismissed it. Instead, he'd come up with his own bigger problems. When he was with me he would be fine but gradually with his friends around he would rebuke me, order me around throw tantrums and, above all, would just ignore me as if I did not exist. After two agonising years I realised his charming carefree ways were just a facade. He would not commit himself to me. I called it off. Yes, after a short period of depression, I am feeling fine, much more in control of my life. I had become doormat and my whole life depended on his moods. I am feeling a free-spirited girl all over again and I am enjoying this freedom."
For starters, own up to wearing rose-coloured glasses. And take them off immediately. I know it is painful but squint those love filled eyes of yours and look carefully at your lover. Stop the minimising and the denial. Realise you may be projecting your own positive qualities on to him, seeing what you want to see, not what is there. If you see the truth and do not like it, you have several choices. Accept the person as he is, break up or get counseling for one or both of you. What ever be the reason, you know you have to kill off what is a dying relationship. Why then is it so hard to say good-bye? Perhaps because you feel sorry for yourself or the other person. May be you are still fond of him or asking for too much of the relationship and him. That is what happened to Anita and Ajay. " I was so sure that Ajay and I would be a couple for life. We looked good together and we had great jobs in the same office. So when he said that he wanted to break off, I felt terrible. I could not understand then. Of course today I can and I am much better off." Yes we are in a world of increasingly messy break-ups. Whenever a relationship ceases, all we want to do is forget that the man ever existed. We make an extra effort to obliterate the entire experience or, worse still, jump in to another relationship hoping to recover. But do not do that.
Try sifting out your emotions rationally. You will figure out what you want from a relationship, your strengths, weaknesses, and ability to judge people, capacity to handle criticism. You will also be able to reintegrate your emotions and then start a new relationship as and when. This is what Anita did. She realised after talking to a few people (including me) not to allow their personal and professional life to overlap. She also figured out that their interests after office hours were very different but proximity at work kept them close. They never got to know each other really well.
Seeing each other's face everyday in office is not spending time. A relationship needs more than that. In short pick up the insights, learn from mistakes and move on. But it is up to you to stand firm. If the negatives outweigh the positives, it is time to go. You owe it to your self to find some one more suitable. Do not waste months or years of your life trying to salvage a relationship that is going no where. Look at it as a stepping stone to bettering your next one.
Nupur, another nice and homely girl who came to me some time ago narrated, "I did all the adjustments and yet he kept telling me that I was nagging too much. I sacrificed my whole lifestyle to suit his and if something disturbed that arrangement, I would cry. He was also doing well financially and interacting with a lot of women and also entertaining them, He kept lying to me about late nights saying they were business get togethers. He would also tell me to cool down and meanwhile throw tantrums himself and expected me to take them. A year later, I broke the relationship as I could not take the pressure". Yes, Nupur learnt to recognise the red flags of dishonesty, control trips, irresponsibility, and hot temper. Not to mention the chronic faultfinding. Thankfully, she realised she deserved much better and there was no need for her to settle for a lover who did not treat her right. She got out of the fantasy world and also knew that the leopard was not going to change his spots. This truth set her free and she could break the romantic illusion, which she had created.
Okay, so when is the best time to call a halt to a relationship you know is not right for you? The answer; the moment you realise it.
Here are a few pointers that can help you in putting an end to a relationship that is wrong:
Get to the point—do not prolong the agony. That will only make you feel guiltier about breaking it off. If you cannot face telling him in person, write a letter that explains your feelings.

Be honest and direct without leaving any room for harboring false hopes about renewing the relationship.

Be bold and do not wait until a "good time".

Be kind and firm—do not lead your partner on and let him think you mean 'yes' or 'may be' when you really mean 'no'. State your position simply.

Do not try to just 'friends'—this rarely works. It is far better to make a clean break rather than offer unrealistic hope.

Do not ring or ask his friends how he is coping.

Finally, do not badmouth your ex-lover once everything has been resolved. If you have nothing nice to say, do not say anything bad either.

Always remember that you saw something special in that person when you first got together and keep this dignity intact.
You certainly will have relationship you deserve if you believe it can happen. Staying in a relationship that is not right will only drag you down and deplete your self-esteem. Always remember that breaking up a relationship today is infinitely less painful than doing it tomorrow or the next day.
Remember the price for avoidance is enormous. It is true hat avoiding the pain of saying 'good bye' is often the easiest route to take. But why live with unhappiness when you can free yourself to search productively for your ideal partner or at least a happier life. People grow out of bad relationships and grow in to better ones. Each bad relationship makes you better equipped to deal with your next one. You can find happiness in love if you are strong enough to discard the ties that are not right for you and keep looking.