New Delhi, January 11
The Election Commission (EC) today announced a one-day poll on February 26 to elect the new state legislative Assemblies in Himachal Pradesh and the three north-eastern states — Meghalaya, Nagaland and Tripura.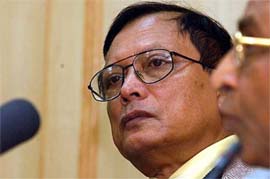 Chief Election Commissioner J. M. Lyngdoh during a Press conference in New Delhi on Saturday.— PTI photo

However, elections to the three snow-bound Assembly constituencies of Lahaul-Spiti, Kinnaur and Pangi-Bharmour in Himachal Pradesh will be held in June, the date for which is yet to be decided, Chief Election Commissioner J M Lyngdoh told newspersons here.
Flanked by the two Election Commissioners Mr T.S. Krishnamurthy and Mr B.B. Tandon, the CEC said the byelections to fill seven seats in the Assemblies of Jammu and Kashmir, Jharkhand, Karnataka, Maharashtra, Tamil Nadu (one seat each) and Uttar Pradesh (two seats) will be held on February 26 itself.
Announcing the poll schedule, he said while the last date of filing nominations would be February 7, scrutiny of nominations would be taken up the next day and the last date for withdrawal of candidatures would be February 19.
While the poll would be held on February 26, counting of votes would be taken up on March 1 and the entire poll process would be completed on or before March 7, the CEC said.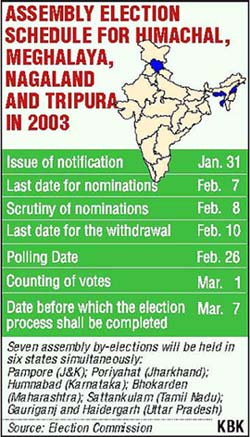 Mr Lyngdoh made it clear that the model code of conduct had come into effect with the announcement of the poll schedule today in all the states going for Assembly poll and the districts in which the whole or part of any constituency going for by-election was included.

The poll will be held entirely on Electronic Voting Machines (EVMs) and there would be compulsory identification of voters either through voter identity cards or alternative documents such as ration cards, driving licence, etc prescribed by the commission.

The CEC said adequate security arrangements were being put in place in the states going for poll to ensure free and fair elections and that the commission had already held a meeting with Union Home Secretary and the Directors-General of Police on security forces deployment.

"We have asked for adequate central forces for the smooth conduct of the coming poll and we are hopeful these will be

provided," Mr Lyngdoh said.

Replying to a question on some reported discrepencies in electoral rolls in the north-eastern states, Mr Lyngdoh said "the electoral rolls in all the states going for poll were in order and that the EC will ensure that no illegal immigrants voted in the north-eastern states, particularly Tripura."

The Election Commissioner, Mr Tandon, however, said that the Commission had asked for a fresh enumeration of voters in four Assembly constituencies in Dimapur district of Nagaland following certain complaints.

The full commission would visit the north-eastern states next week for a first hand assessment of the poll preparations, Mr Lyngdoh said.

To a question whether the Election Commission would order disarming of the Special Police Officers (SPOs) in Tripura following reports that CPM cadres have been recruited in it in a big way, Mr Lyngdoh merely said "this is an issue worth taking note of and the commission will take the necessary step."

While the term of 68-member Himachal Pradesh assembly is due to end on March 11, the tenure of 60-member Meghalaya assembly ends on March 8 and that of the 60-member Nagaland and 60-member Tripura assemblies ends on March 23.

The constituencies where the bypoll are to be held are Pampore (J and K) following death of Abdul Aziz Mir, Poriyahat (Jharkhand) following resignation of Pradeep Yadav, Humnabad (Karnataka) due to declaration of election of Subhash Kallur as void, Bhokarden (Maharashtra), due to death of Vithalrao Ramsingh Patil Sakpal, Sattankulam (Tamil Nadu) due to death of S S Mani Nadar and Gauriganj (UP) due to death of Noor Mohammed and Haidergarh (UP) due to resignation of Rajnath Singh.