An extremely intense and sensitive man, Dev Anand never looked back since his debut in 1945. Just four years later he formed his own Navketan Film Company. Till date, Dev Anand has acted in about 120 films, at least one-third of which were produced under his own banner, Navketan. But the kind of magic he was able to weave under the direction of his younger brother Vijay Anand ó the Dev-Vijay team gave such blockbusters as Johnny Mera Naam, Guide, Tere Mere Sapne and Jewel Thief ó could somehow never be recreated after the two brothers parted company and Dev started directing his own films.
The single most striking aspect of Dev Anandís personality is his insatiable hunger for work and creativity. His staff says that he is an early riser and is on the sets latest by 7 am. His aides say Dev Anand is such a workaholic that he hardly sleeps. The only time he really steals a nap is while travelling, whether by car, on a train or plane. Invariably his breakfast is on the sets. And if he is shooting till late, which could sometimes be till 4 am, he still makes it a point to get up by 9 am. He seldom attends parties and likes to be with his familyó-wife Kalpana Kartik and children Devina and Sunil. He leads a highly disciplined life, which many say, is the secret of his youthfulness. The evergreen hero does not drink tea or coffee, what to talk of liquor. He does not eat non-vegetarian food, though on rare occasions he does have eggs. But being the hardcore Punjabi that he is, he loves maa ki dal and baingan ka bhartha.
Dev saheb, who entered his 80th year on September 26 last, is said to be the easiest celebrity to meet in Mumbai. He recently visited New Delhi in connection with the premiere of his latest film Love At Time Square and talked at length with The Tribune, a paper he has been reading along with the Civil and Military Gazette since his college days in Lahore. In an hour-long free-wheeling interview, Dev Anand talked of his passions, ambitions, unfulfilled desires and plans for the future.
Excerpts from the interview: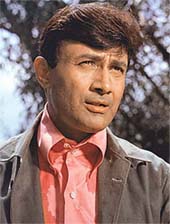 Dev Anand: Successfully defying age and time

Why did you break off with Vijay Anand?
We have not broken off. We are on our own. May be, he wanted to do his own thing. He has just finished a film with me. Directed by Vijay Anand, the film is titled Jaana Nahin Dil Se Door.
Do you hope that this film would recreate the same old magic of the Dev-Vijay combine?
We hope for a lot of things. Nobody can predict public sanction. You create a work of art. You do not know whether it will get public sanction. Sometimes outstanding films do no business and sometimes films which are not so good work.
Tell us about your latest movie? Does it have something to do with 9/11?
Love at Times Square is a love story of Indians living in America and is about a New Yearís Eve in Times Square and the birth of the new millennium. Incidentally, 9/11 also happened in 2001.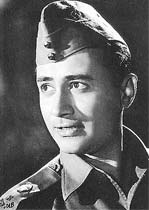 You have acted in so many films and yourself directed many. Which are your favourite films?
I was the leading star in 1945. I slowed down my pace of acting assignments after I came into direction. Every film has left a memory. Guide was made twice, once in Hindi and once in English. Hare Rama Hare Krishna involved two and a half months of shooting in Kathmandu. Des Pardes addressed the theme of illegal immigration in England.
Tell me, what is the secret of your eternal youth, your effervescence, your zest for life?
Iím mostly moving in my mind. I keep drawing inspiration from people everyday. All of a sudden something strikes me so hard and dramatically and then a dream comes ó I sit down, cut it off and make a script out of it..
Does terrorism shake you?
Terrorism shakes us. It shakes me.
Does Osama bin Laden fascinate you as a character?
Yes, very much.
Are you planning to make a film revolving around Osama?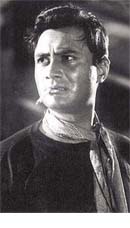 I would very much like to, but a subject like this requires in-depth research and handling. I am not sure whether I am ready for that as yet.
I understand you are very keen on making a movie on the royal massacre in Nepal? Should we hope to see a film by you on this subject in the near future?
The subject interests me deeply. The incident is so dramatic. I have a script ready on the royal familyís massacre. But I canít say whether I will make the film or not.
I have not set any goals. Motion picture making is a very, very involved affair. It is completely my baby. Iím a thorough professional. I plan films right from the conception of an idea to its final execution. It means that Iím involved in a project for 15 to 16 hours a day. But I do not see my own films.
You were one of the distinguished passengers on the bus that took Prime Minister Atal Behari Vajpayee to Lahore during the term of Nawaz Sharif. But have you had a chance to meet Gen Pervez Musharraf?
Though I know both Vajpayee and Nawaz Sharif very well, Iíve never met or spoken to General Musharraf.
If you were to make a film that required shooting in Pakistan, would you go ahead with the project or scrap it because of the current state of Indo-Pakistan relations?
I would speak to General Musharraf myself.
Is there anything you wanted to achieve but havenít so far? How about joining politics even at the age of 80?
Why should I join politics? If one gets into politics, it becomes a whole-time job. You have to think politics, eat politics, sleep politics. Itís a cold-blooded profession. I was heading the National Party of India which was formed by the film industry people after the Janata Party government fell. A lot of wrong things have happened to our country. Why was Pakistan carved out in the first place? It was a futile exercise. After Indonesia, India has the largest Muslim population. I think India should not have been divided in the first place. When we went to Lahore, we found that there are no cultural differences.
So you completely rule out joining politics, now or ever?
Joining politics is not in my mind at present. I do not think, my joining politics as of now can be of use. Iíve not campaigned for any political party Ė only campaigned for Atal Behari Vajpayee once before he became the Prime Minister. I spoke against the Emergency. I became very friendly with Jai Prakash Narayan when he took us to his ashram in Nalanda during the shooting of Johnny Mera Naam.
Donít your filmstar colleagues, who are in politics, ask you to campaign for them?
They are good enough. They do not ask me to campaign but if it is for a good cause and in national interest, I do it. I have no political colours.
What do you feel about the present-day actors and actresses?
The newcomers are all good. They have been very lucky. They have got an exposure which we did not get. Learning for us was only through trial and error. Iím still in the process of improving. I still feel like a student. Nobody is perfect.
What is the secret of your success?
I do not know if I have been successful or not. The very fact that you are interviewing me, means that I have been successful. I have reached where I am because of my films. I conceive a picture totally on my own. Perhaps, my conviction of treading my own path has helped. Perhaps, you saw a shot of mine and heard a dialogue which appealed to you and it got etched in your mind.
Do you agree with Amitabh Bachchanís observation that there are no good roles for actors after a certain age?
He should make his own pictures, be bold enough to see that new roles are created. The best way to ensure that is to create your own films. After Guide and Jewel Thief, I switched over to direction. I couldíve owned half of Mumbai if I had just continued acting. We have grown up in the golden period of Hollywood. But I donít remember any dialogues of those times. Iím so much in the present. Koi Hosh hi nahin ki kaun si film mein kya role kiya tha. I live in the present. Past is for historians, not for me. Your present is your future.