Ringing in new tunes
by Peeyush Agnihotri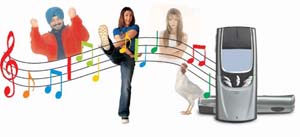 THE next time you hear Las Ketchup Asereje jingle do not look around for idiot box to fix responsibility on MTV or Channel V. Chances are the tune could jolly well be emanating from your next-seat-Uncleji's pocket. That's the latest fad and the music industry has found a new partner in the cellphone industry. Down loading hip tunes from the Websites onto the cellular phone is already a cult in the USA, Europe and IT-advanced Asia-Pacific countries while in India, the craze has started scaling the windward side of the curve.
SMS a day, keeps the devil away
by Philip Pullella
GIVE us this day our daily SMS. Believers in today's frantic world can now find inspiration on the run thanks to that omnipresent companion — no, not a Guardian Angel but a cellular phone. Italy's largest mobile phone operator, TIM, has begun a service to offer clients SMS messages with "the prayer of the day", "saint of the day" or "gospel of the day".
Cellphones zaroorat sabhi ki
by Sumeet Chatterjee
HOUSEWIFE Radhika Sood in the hill town of Shimla loves the mobile phone, and for good reason. "Our teenaged children remain away for most of the year," Sood says. "But I hardly miss them since I frequently talk to them on the SMS service." Far away, in the Indian capital, schoolteacher Ranjini Narayan has seen her life change ever since she bought a mobile telephone about a year ago.
No LoC in Indo-Pak cyber conflict
THE Pakistan-India conflict has entered the cyber realm as hackers across the subcontinent have infected hundreds of thousands of computers in more than 100 countries on the New Year's Day and the virus is spreading.
Straighten up while clicking
by Shraddha Munjal
USING computer is a necessity nowadays. Too much of everything is, however, bad, and computers can cause a lot of health problems unless one is careful. All computer based workers may face professional hazards, especially those who spend long hours in front of the intelligent yet dumb boxes called PCs.
IT WIT
by Sandeep Joshi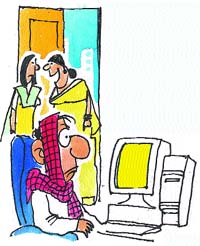 He is looking for the Sun at sunshine.com
Mighty get mightier in games world
by Andy Goldberg
FIFTEEN-year-old Trevor Thomas really wanted a bunch of new video games for his Xbox console for Christmas. His father, who is struggling to keep his finances afloat in the midst of the tech downturn, had other ideas. He spent $ 50 to buy Trevor an online kit that allows him to play the games he already owns against players from all over the world.

Methods IPR violators resort to
by Geeta Gulati
WHEREAS on one hand, the Internet has evolved as a new medium to conduct business, on the other it has also provided cyber crooks with an opportunity to break the rules by infringing upon the intellectual property rights (IPR) of others.

2003 brings high hopes for Indian IT sector
INDIA'S high-profile IT industry saw few silver lines in an otherwise gloomy global market in 2002 as software makers strived to explore new avenues and cut costs to offset moribund revenues. After the first three-year stretch of falling prices that badly affected the profitability of companies, the software development and services majors also saw inflows of fresh orders at comparatively higher billing rates.
Spicy south India pips north
SOUTHERN India led by IT powerhouse Karnataka topped exports of computer software clocking Rs 21,307 crore ($ 4,467 million) for 2001-02. Karnataka topped the list by exporting computer software worth Rs 10,500 crore ($ 2201 million), followed by Tamil Nadu, Rs 5875 crore ($ 1231 million), Andhra Pradesh, Rs 2925 crore ($ 613 million), Kerala Rs 201 crore ($ 42 million) and Pondicherry, Rs 0.45 crore.