High blood pressure as the silent killer
Dr H.S. Wasir
Silent waters, it is said, are deep and dangerous. A volcano is also quiet till it erupts with devastating results. High blood pressure is somewhat akin to such a situation and if left undetected and untreated it results in brain attack (stroke), heart attack, heart enlargement, heart failure and kidney failure. Unlike volcano, which cannot be predicted, high blood pressure can be detected in the "silent" phase and if treated adequately, the hypertension volcano can be tamed and prevented from eruption.
What is high blood pressure (hypertension)?
It is now universally agreed that in the adults if repeated blood pressure readings stay at or above 140/90 mm Hg, the person is diagnosed to be having high blood pressure or, in medical terms, what is called hypertension. In India about 10 per cent of adult urban and about 3 to 5 per cent of the rural population suffers from high blood pressure. As there is a rapid transition from the rural to urban areas and more and more adults are changing from the traditional agricultural society to the industrial set-ups and the habits of fast foods, rich in calories, sugar, salt, fats and alcohol, combined with a lack of physical exercise, the prevalence of hypertension in India is fast rising. We thus have several million people to be taken care of from this malady of silent killer, but not necessarily with medicines, as lifestyle modifications go a long way in the prevention and treatment of high blood pressure. There are marked fluctuations in blood pressure records over 24 hours and, therefore, several readings are taken before labelling a person to be suffering from high blood pressure.
The symptoms
High blood pressure is generally a silent disease, specially when it has developed over a long time. Many times it is picked up during a routine check-up or during examinations by medical boards for jobs or insurance policies. In fact, the disease of high blood pressure is not really so silent. The person having vague symptoms like headache, heaviness in the head, impairment in vision, disturbed sleep or lack of it, loss of concentration in work, heavy breathing during work or climbing stairs, must get his/her blood pressure reading taken. If a person has one or more of these symptoms and one blood pressure reading is normal, the doctor must take more frequent readings to ascertain that at least three readings at three different times remain below 140/90 mm Hg before declaring the person as having normal blood pressure.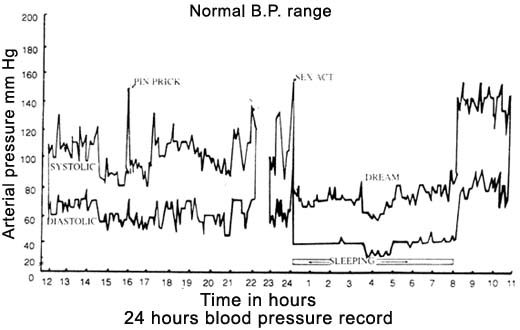 The reverse is more important, i.e. if the first blood pressure reading taken in the doctor's office or in the hospital is high, one must get it rechecked preferably in homely surroundings and a friendly atmosphere.
If these readings are normal, this is not a case of high blood pressure but what is called as "White Coat" effect or "White Coat" hypertension denoting thereby that the person's blood pressure went high in unfamiliar surroundings, especially the doctor's office.
Children are often afraid of the doctor's name but it appears that some adults also become very apprehensive when they face the doctor and that makes their blood pressure rise. Fear, anxiety, anger, apprehension, tense and hostile surroundings often tend to raise blood pressure. One should not ignore symptoms like headache, heaviness in the head, shortness of breath, impaired vision and lack of sleep, as these may be due to high blood pressure.
The causes
Unlike diseases like typhoid, TB and malaria, where we know the precise cause of the disease and, therefore, specific drug treatment, in the case of high blood pressure no cause is known in most cases. But we do have effective drugs and other means to treat this condition. When high blood pressure is found in children and young adults, there is generally a causative factor like some abnormality in the major blood vessels of the body or those of the kidneys or some tumours in or around the kidneys. In such situations blood pressure can be permanently cured by ballooning methods or by surgery.
In adults, however, such cases are rare and by and large there is no detectable cause or causes of high blood pressure (primary hypertension). Certain risk factors, however, when present make the person more prone to get high blood pressure. Some of these risk factors are: (1) overweight; (2) sedentary way of living and lack of physical exercise; (3) excessive alcohol consumption of more than two ounces of whisky in a day or equivalent of that in other spirits; (4) excess salt intake; and (5) repeated exposures to stressful situations at work or at home. Cigarette smoking, a major risk factor for heart attack, adds fuel to fire when combined with high blood pressure as it leads to death and disability from heart attacks and stroke.
The complications
Treatment of a disease which generally has no symptoms is often very annoying to the patient to continue taking pills when he/she has no trouble. The treating physician, however, has to explain to the patient that if the blood pressure is allowed to stay high it will result in brain damage (stroke), heart failure, heart attacks, kidney failure and sudden death. A great deal of patience and perseverance is required on the part of both the physician and the patient in the treatment of high blood pressure as it is a long-term affair and some drugs have undesirable side-effects too.
The writer is Chief Cardiologist and Medical Adviser, Batra Hospital and Medical Research Centre, New Delhi.