SCIENCE & TECHNOLOGY CROSSWORD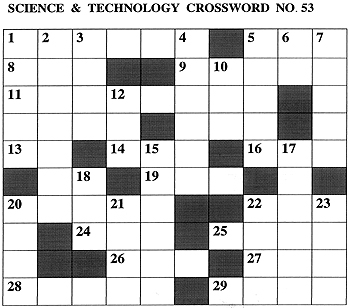 Clues
Across:
1. Ice ages on geological time scale.
9. A part of a cylinder or cone cut off by a plane not parallel to its base.
10. Abbr. for a type of plant harmone that promotes elongation and growth of plant cells.
11. Stoppage of flow by air-bubbles in a pump or a pipe.
13. Short for Specific Gravity.
14. Symbol for Titanium.
15. An Indian establishment doing research in gas turbines.(abbr.)
17. A thin slab of compressed wooden fibres.
19. Feathery leaved green shrub at sea side.
21. Sinuous line of double continuous curve as in 'S'.
22. A large sea-fish whose oil is a source of vitamin A & D.
23. Track sunk due to passage of wheels.
25. This type of collision between bodies happens under ideal conditions.
Down:
1. Position of the moon such that the line joining it with earth is at right angle to the line joining earth and sun.
2. A doubly reflecting crystal having only one optic axis.
3. Science of soil management and crop production.
4. A bulbous spring flowering plant.
5. A premier research centre for astronomy established by Tata (abbr.)
6. A technique of artificial insemination to produce better species of animals.
7. The pattern of lines which scan the fluorescent screen of a cathode ray tube in a TV.
8. An antenna to boost mobile signal in low signal areas.
12. A monosaccharide containing a ketone group.
16. These type of piles save a structure from earthquakes.
18. In this type of connection, three windings of a three phase system are connected in series.
20. Part of the plant responsible for its nourishment.
22. Symbol for Cesium.
24. Short for Ultra-violet rays.
Solution to last week's Crossword: