Can India be a superpower?
Yes, it can be!
Let's turn India into a land of opportunities
Hari Jaisingh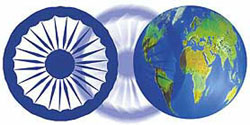 "INDIA is not just a piece of earth; she is power, a Godhead." This is how Sri Aurobindo looked at this country and its rich ancient civilisation. But all that he wanted fellow Indians to have was "the firm faith that India must rise and be great". Herein lies the tragic gap between desire and action, between promise and performance; and between conduct in private life and public life of leaders.
Vision for becoming a developed nation


WORLD War II resulted in nuclear warfare, killing millions of people but gave birth to the United Nations. The code of war ethics and human rights in war was evolved, symbolising the elevation of human civilisation standards and concern for fellow human beings, says A.P.J. Abdul Kalam.
Not a superpower but an emerging power


WHAT makes a nation a superpower? China, it is claimed, is on its way to becoming one. Stephen Cohen describes India as an 'emerging power'; not as a superpower, not even as a great power, and, at best, an Asian power. It is Cohen's contention that India's power is, as yet, in a nascent stage, says
M.V. Kamath.
India can be a presence in future multipolar world
D.C. Pathak


THE turbulent 1990s began with an unprecedented global change on the geo-political scenario. One of the two superpowers just vanished without much notice and the great divide between the two combative ideologies of communism and western capitalism abruptly disappeared, ending the dreaded Cold War era. The world is adjusting to the new world order in which the USA alone fits the bill of being termed a superpower that is in a position to exercise its economic strength and armed might anywhere in the world.
It will remain a tale of unrealised potential


IN terms of its military capabilities, India is now, formally or informally, an acknowledged nuclear power. Its missile programme is credible and self-reliant, with Agni-III (3000-km range) coming up by the end of this year. It has the world's third-largest armed force that is capable of defending India's territorial integrity and internal subversion, writes S.D. Muni.
Interview
"A majority of Indians are wary of returning home"


INDIAN culture is what has always kept Barjinder Sodhi, a Berlin-based NRI, attached to his roots. He left India in 1984 to pursue higher studies there. He has proved right the oft-quoted nostalgic statement made by NRIs that you can take an Indian out of India but you cannot take India out of an Indian. He was here as a representative of various associations, including the Indian Cultural Centre, Berlin; Bharat Majlis; Sikh Association and Jawan Bharti Centre Youth Association. Sodhi plans to start some venture in India.
Interview
"Our future generations should also feel the bonding
with India"


A.P.S. Chawla, Chairman of the UK-based Nova group of companies, has been settled in London for the last 38 years. He is now involved in a project related to cancer patients in India. He recently donated Rs 25 lakh for a cancer hospital in his home town, Amritsar. He has promised another Rs 25 lakh for the project to be given soon. Also the President of the World Punjabi Organisation at London, Chawla, who was here to attend the Pravasi Bhartiya Divas spoke to Shveta Pathak about the expectations of the Non-resident Indians from the Indian government and India as an investment destination.
India has to shed image of being a soft state


DESPITE its mediocre governments, India has steadily progressed over the years mainly due to the initiative of it's people. There is little doubt that superpower status will be attained but India has to first tread the present difficult path of turmoil. It is already doing so and fresh successes are reported frequently, with the growing support of the Indian diaspora abroad, says V. N. Sharma.
"India can be a major power if it improves the standard
of living"
Prabhjot Singh


"NUCLEAR weapons alone can neither make India a superpower nor get it respect or status in the community of nations", says Ujjal Dosanjh, a former Premier of British Columbia (the first Indo-Canadian to hold the post). "What can make India a real superpower is its socio-economic development.