I brought more trouble on my own head — literally. I had my head massaged with warm oil, shampooed it with hot water and sat out in the garden to let the sun dry it. The sun was there but without any heat. But the time my head dried it was gripped with cold. I am familiar with the symptoms. It starts with sneezing. I have worked out by experience that when sneezes come in pairs, two at a time, there is nothing much to worry about. But when they come in singles, beware. All my calculations went haywire: sneezes came in salvos of explosions more than six at a time. Then running eyes and running nose, a constricted throat and head like a block of wood. I decided to heal myself as I had experience of hundreds of colds and coughs behind me. I tried all of them, Vitamin C tablets with aspirin and hot lemon juice, rum with lime and hot water, rasam twice a day. Nothing worked. Friends flooded me with advice: take tulsi leaves and garlic in hot water, take homeopathic pills etc. Sneezing and running nose turned to phlegm, sinuses got blocked giving me a throbbing headache; every time I coughed, it hurt me down from my chest to the stomach. After six days I gave up self-medication and friends' prescriptions. I consulted my doctor. By then the cold had almost run its course. His medicine finally killed it. I survived yet another cold war.
Indian widows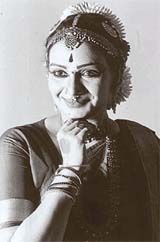 There are aspects of Indian life so abdominally cruel that we do our best to pretend they do not exist and therefore we do not have to do anything about them. One such is the treatment of widows. They are not wanted by their late husbands' families and their parents refuse to take them back. Their heads are tonsured, sindoor removed from the parting in their hair, bangles smashed, fine clothes taken away to be exchanged for plain white garment. Many are dumped in ashrams in Varanasi or Vrindavan to become victims of pandas, priests and patrons of temples.
A couple of years ago Meera Nair tried to make a film on the subject in Varanasi and got permission to do so. Her equipment was smashed up by hooligans and her crew hounded out of the city. Now Pavan Varma, our High Commissioner in Cyprus, has written a moving poem: Widows of Vrindavan; it has been choreographed and performed in the Bharatnatyam style by renowned dancer Pratibha Prahlad. Pavan writes of a young Hindu bride widowed before the marriage has been consummated:
And then they said:
She must wear white
Cut her hair
Break her bangles
Remove the Kajal
wash the sindoor
Let her renounce meat, give up spice,
Adopt white! White, the colour white!
Bleach the mehndi; or anything else
Recalling
Even remotely
The dreams of a bride.
She is dumped in an ashram in Vrindavan and laments:
I cannot find Krishna
In this temple town
Of overflowing sewage,
Where pandas breed
In concrete cess pools,
And devotees walk on filth
Without anyone noticing
I cannot find Krishna
In this holy city.
Although I chant His name.
From seven to ten
In the morning.
Every evening.
She ends up as a common whore:
We live in the shadow
or whore houses,
Prey for priests
Landlords, rickshaw drivers
Policemen, shopkeepers
In fact, any male in sight.
Pratibha despite achieving a degree of excellence as a dancer is not really suited to play the role of a widow forced by circumstances into prostitution, because she is never likely to become a widow. She is an unmarried mother of identical twin boys conceived through artificial insemination. Who the donor is no one knows. She is 50 years ahead of our times and lovely to behold.
Terrorism & the US
We have defeated terrorism worldwide
Except for Saddam
So we can strut about with pride
And kiss our palm
All that we had to do was to frown
And the factories of terror turn turtle and drown
Whether in Sudan or Pakistan —
The best example of it is the rise of Fazlul Rehman,
The Pakistani Taliban;
But there remains Saddam
But for whom the world is beauteous and calm,
World's enemy number one
To kill whom will be fun
And lesson to one and all
No, no, no failure, no attempt to divert attention
From the Al Qaida or Bin Laden,
See, whether in Bali or Delhi or hotbed Valley
Or New York, potentially
The world is completely fearless and free;
But alas, unfortunately when it comes to Iraq
Even the UN begins to bark
And rather than continue to fight
India and Pakistan unite.
(Courtesy: Kuldip Salil, Delhi)