Putin calls up Vajpayee
Throws damper on Musharraf's Russia visit
Rajeev Sharma
Tribune News Service
New Delhi, February 4
Minutes before Pakistan President Pervez Musharraf landed for a historic and his first-ever visit to Moscow, Russian President Vladimir Putin handed a not-so-subtle diplomatic message to Islamabad when he called up Prime Minister Atal Behari Vajpayee to express his country's solidarity with India.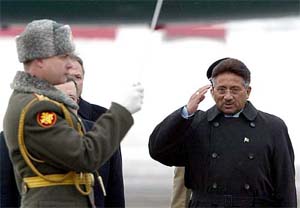 Pakistani President Pervez Musharraf (R) reviews the honour guard on his arrival in Moscow on Tuesday. — Reuters photo

Well-placed sources in South Block said during the 12-minute conversation, Mr Putin assured Mr Vajpayee that Moscow fully understood and appreciated New Delhi's position of no dialogue with Islamabad until Pakistan stopped cross-border terrorism against India.
Mr Putin also told Mr Vajpayee that he looked forward to meeting him in St Petersburg in May this year when the Prime Minister visits Russia.
The sources said the fact that Mr Putin took care to ring up Mr Vajpayee even before General Musharraf had landed in Moscow showed the high level of trust in the Indo-Russian relations.
Mr Putin's call to Mr Vajpayee throws cold waters on General Musharraf's much-touted visited which was negotiated for the past more than six months before the dates of the visit were finalised.
General Musharraf has made attempts in the past to woo Moscow and had last year gone to the extent of urging Moscow to mediate between India and Pakistan on the Kashmir issue. This was a well-calculated move on the part of General Musharraf but it was deflated by a series of hard statements from Moscow.
The most rude shock to Pakistani aspirations of staging a diplomatic coup by mending fence with Russia came in December last when Mr Putin minced no words in criticising Pakistan for its acts of omission and commission vis-a-vis India.
A Russian Foreign Ministry spokesman said yesterday in Moscow: "The dialogue between the two countries (India and Pakistan) could be resumed, given Pakistan meets its obligations to bar militants from crossing the Line of Control into Jammu and Kashmir and to liquidate terrorist infrastructure".
MOSCOW: Undertaking the first-ever visit by a Pakistani head of state to Russia in more than three decades, President Pervez Musharraf arrived here today for talks with Russian leaders during which he is expected to seek Moscow's help in resumption of dialogue with India.
During his three-day visit Musharraf will hold talks with Russian President Vladimir Putin and other leaders.
The two leaders are expected to sign bilateral agreements dealing with economic and defence cooperation, Indo-Pak relations and the issue of Kashmir are also expected to top the agenda of their talks to be held at the Kremlin tomorrow.
The issue of international terrorism, situation in South Asia, Iraq and North Korea are also likely to figure in their talks.
Musharraf, on the eve of his visit, said that he was willing to consider any proposal made by Putin for the resumption of stalled Indo-Pak dialogue.
A senior Russian foreign ministry official said that improvement in Russia's relations with Pakistan "will not be done at the cost of our traditional partner and friend India."
Moscow has echoed New Delhi's stand on the Kashmir issue, saying Pakistan must end exporting terrorists into India before any meaningful dialogue between the two neighbours could begin.
"The dialogue between the two countries could be resumed, given Pakistan meets its obligations to bar militants from crossing the Line of Control into Jammu and Kashmir, and to liquidate terrorist infrastructure," Russian Foreign Ministry spokesman Alexander Yakovenko said yesterday. PTI