Electronic paper a reality
K.K. Jayanthi





Produced in a roll, like old-fashioned paper, SmartPaper is actually two sheets of thin plastic with millions of tiny bichromal beads embedded in between.
One of the fundamental drawbacks of conventional paper is that it cannot be reused once it has been written upon. Now imagine what can be done with paper that can be written upon, the writing erased instantaneously and again written upon, millions of times without wearing out.
The technical concept of electronic reusable paper was first mooted 30 years ago by Nicholas K. Sheridan, a researcher at Xerox's Palo Alto Research Centre. He came up with the basic idea of a display medium comprising very tiny plastic beads embedded in a flexible transparent film.
Each bead is two-toned: one half white and one half black, with an opposing electrical charge on each half. Apply an appropriate electric field to the transparent surface, and a bead can be rotated to lock either a white or black dot onto the viewing plane-creating, in effect, ink that twists itself into the right place. Sheridon called his invention Gyricon, Greek for "rotating image."
With the commissioning of the $ 10 million, 48,000 sq ft manufacturing facility of Gyricon Media Inc at Ann Arbor (Michigan) in August, 2002, the commercial availability of electronic paper, is a reality.
Gyricon has branded its product as SmartPaper.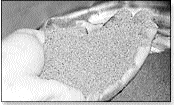 Each bead is smaller than a grain of sand and has a different colour on each half or "side ". The hemispheres are also charged differently (i.e. positive or negative).
The Gyricon technology uses an array of tiny (100 micron diameter or smaller) solid beads with one hemisphere of each bead one colour (e.g. white) and the other a different colour (e.g. black). these beads are embedded in a flexible plastic sheet in small cavities surrounded by a liquid. Each bead carries an electrical charge. When an external electric field is applied the bead rotates.
Adhesive forces between each bead and cavity wall require an electrical threshold be exceeded before it will rotate. This makes an image electrically "printed" onto the material stable and unchanging until "erased" by another transmission. Electrical signals can be applied to the SmartPaper sheets through fixed surface electrodes or a moving stylus.
Applying electrical fields to the display surface changes the image on SmartPaper. A range of techniques (with different flexibility and cost factors) will achieve this result. In the least expensive option, the back plane contains several possible images or preprogrammed text and digit messages (this is called a Multiple Fixed Image or MFI sign). Alternatively, the back plane can contain circuitry addressed to an array of pixels that can be written individually.
Which image or message is displayed can be controlled by either programming the sign to display a fixed sequence when it is manufactured or a dynamically changeable sequence using special software and a wireless network attached to a local PC or the Internet.
Due to the way SmartPaper signs are constructed, they cannot be tampered with by magnets, static electricity, PADAS, cell phones, or other electronic devices. Apart from ensuring that batteries have sufficient charge, signs made with SmartPaper can be easily cleaned by wiping with a damp cloth or normal non-abrasive window cleaners. It does not use or contain any toxic chemicals or other hazardous materials nor does it require any special handling or disposal.
A networked programmable sign using SmartPaper will run for up to 2 years on 3 AA batteries, with the power almost completely used by the communications and processing systems. SmartPaper itself requires just a capacitance or voltage (about 100 volts), not a power current.
Unlike other types of electronic displays (LED/LCD), SmartPaper has a wide viewing angle identical to traditional printed signs. This allows it to be viewed like paper, from all angles and without added backlighting. Images do not "wash-out" in fluorescent or bright lighting.
Displays made with SmartPaper generally do not degrade over time and will last for years because the images are based on pigments rather than dyes. Signs made with SmartPaper have performed more than 5 million image changes without malfunction or fading. Images displayed on SmartPaper are "held" indefinitely until a new electrical signal is applied.
SmartPaper is fundamentally suitable to both indoor and outdoor display uses. However, displays will offer optimal performance in indoor applications with ambient temperatures from 0.50 C.
Gyricon Media, Inc. currently plans to use the technology to develop applications for signage and point-of-purchase displays found in supermarkets, department stores and other retail outlets. Current models of signage made with SmartPaper are 3/4" thick including the housing. Unhoused sheets of SmartPaper can be made to less than 1/10" thickness.
Smaller-size beads necessary for higher resolution are on the way. As for a full range of colors, Sheridon has been issued a patent for subtractive color using transparent Gyricon beads with thin disks of color filter material in cyan, magenta and yellow, each addressable by different voltage levels.
SmartPaper technology is obviously well suited to a wide variety of other market applications, including PDA displays and electronic books/newspapers. Sheridon has predicted that the pliable, reusable e-newspaper or e-magazine of the future "could happen in a few years."
He happens to have a concept model: a slit aluminum cylinder from which he pulls out a sheet of SmartPaper, papyrus scroll-like. In a working model, an array of electrodes along the edge of the cylinder would imprint up-to-the-minute news or feature stories on the paper's flexible, rubbery surface; plastic sheets would protect the paper from being damaged.
Nevertheless, as paperlike as it may become, this electronic paper may never feel exactly like the original. Sheridon admits. "It will never be as light as paper, Paper is about four mils thick; this will always be 12 or 15 mils thick. But it doesn't have to exactly replicate paper to be useful."