M A I N N E W S
India expels Pak diplomat
Islamabad retaliates with tit-for-tat
Rajeev Sharma
Tribune News Service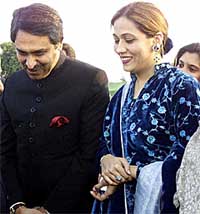 Acting High Commissioner Jalil Abbas Jilani, who was expelled by India, is seen with his wife in this file photo. — PTI
New Delhi, February 8
India-Pakistan relations were put in a deep freeze today as the two countries traded expulsions of their Acting High Commissioners and four officials from each side, a move indicative of the growing mutual hatred and distrust between the two nuclear powers.
Interestingly, one of the four officials of the Pakistani High Commission here ordered to leave the country is at present not in India and the government is well aware of this fact. Sources said the official, Mr Habib-ur-Rehman, who is in Saudi Arabia since January 30 for performing haj, has been expelled in view of his "past activities".
The fast-paced diplomatic sabre-rattling began this morning when the Ministry of External Affairs asked Pakistan to withdraw its acting High Commissioner Jalil Abbas Jilani and four staff officials — Mr Habibur Rehman, Mr Aftab Ahmed, Mr Abdul Razzak and Mr Mohammad Nasir — within 48 hours. Their families were given a week's time to leave India. The MEA announcement did not use the term "persona non grata" for the five Pakistanis.
Though the reason cited for the Indian action was that Mr Jilani and four others indulged in actions "not compatible with their official duties" — an euphemism for espionage — it was obvious that the five Pakistanis were asked to leave the country on charges of giving money to two functionaries of the All-Party Hurriyat Conference for stepping up militancy in Jammu and Kashmir. Syed Ibne Abbas, a senior diplomat of the Pakistan High Commission, was summoned to the Foreign Office and told this.
An important point made by the MEA was that the government was not interested in further downgrading the diplomatic representation of Pakistan in India and was ready to give visa at the earliest to Mr Jilani's replacement. Mr Jilani was named in a Delhi police FIR following revelations by two arrested Hurriyat activists, Anjum Zamrooda Habib and Shabir Ahmed Dar, that they had received more than Rs 3 lakh from Mr Jilani for funding separatist groups in Jammu and Kashmir.
Just about four hours later, Pakistan's foreign office — which has traditionally believed in Newton's third law of motion: "For every action there is an equal and opposite reaction" — announced its tit-for-tat action. But the Pakistani response, as usual, more than matched India's as apart from expelling Indian Acting High Commissioner Sudhir Vyas, Islamabad expelled four officials in the Indian High Commission there, including a diplomat, First Secretary Rahul Rasgotra. India had not expelled any Pakistani diplomat today apart from Mr Jilani.
Pakistani Foreign Office summoned Mr Vikram Misri, Counsellor at the Indian High Commission, and conveyed to him the decision to expel Mr Vyas, Mr Rasgotra and three officials— Mr M R Balu, Mr Ranbir Singh and Mr Surinder Raj Anand.
After the Indo-Pak diplomatic tit-for-tat game was over by this evening, the strength of the Indian and Pakistani High Commissions in each other's country came down to 46.
Pakistan High Commission here rebutted the Indian allegations against its diplomats and staffers and instead accused India of violating the Vienna Convention on Diplomatic Relations and the Bilateral Code of Conduct of 1992 — a charge India too has levelled against Pakistan repeatedly.
An MEA spokesman, Mr Navtej Sarna, dismissed Pakistani denials of Indian allegations and wryly remarked: "Some governments may economise on truth, but Pakistan has honed mendacity into a fine art for normal conduct of its international relations."
The MEA declined to entertain "speculative" questions whether New Delhi would be sending a replacement for Mr Sudhir Vyas in Islamabad. The mood in South Block here appeared to be of "wait and watch". Sources said India was not in a hurry to send another Charge d' Affaires to Pakistan before Pakistan does so, indicating that the diplomatic representation between the two countries would now be down to the Counsellor-level.