Five great shocks
Group match, Old Trafford, June 16, 1979
Sri Lanka beat India by 47 runs
India's disastrous World Cup campaign ended ignominiously as they lost their third consecutive game, this time to a side still two years short of gaining Test status. In a game spread over two days as Manchester's weather lived up to its reputation, Sri Lanka laid down the challenge by posting a well-constructed 238 for five. Sidath Wettimuny, Roy Dias and Man of the Match Duleep Mendis all scored half centuries. In reply, India made a positive start, reaching 119 for two, but fell away badly to collapse to 191 all out and return home with their tail between their legs.
Group match, Trent Bridge, June 9, 1983
Zimbabwe beat Australia by 13 runs
The World Cup began with a bang as Zimbabwe produced one of the greatest shocks of modern cricket. Under the astute guidance of captain Duncan Fletcher, Zimbabwe proved that on their day they could live with the best as they humbled the Aussies in a game which on paper had looked as one-sided as they come.
Fletcher led by example for the Africans, surviving two scares to hit an unbeaten 69 in his side's respectable 239 for six. Kepler Wessels and Rodney Marsh both hit half-centuries in reply, but Australia could not keep up with the rate as they were strangled by Zimbabwe's efficiency in the field. Fletcher's four for 42 made him Man of the Match.
Final, Lord's, June 25, 1983
India beat West Indies by 43 runs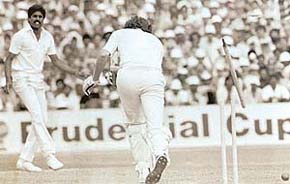 Kapil Dev led India to a surprise win in
the 1983 World Cup
Since the inception of one-day cricket, India had provided pretty much lightweight opposition. They arrived in England with just one World Cup win to their name and that had come two tournaments previously against minnows East Africa in 1975. Although they pulled off a surprise group win over the West Indies in difficult conditions at Old Trafford, their progress in 1983 was again pretty unspectacular. They almost lost to Zimbabwe, but suddenly, unexpected wins over Australia and England took them through to the final. It was a true David vs Goliath confrontation and after India's 183, the giants looked certain to win. Complacency set in, however, and India's brilliant fielding and tight bowling, epitomised by Madan Lal's three for 12, came out on top.
Group match, Pune, February 29, 1996
Kenya beat West Indies by 73 runs
February 29 comes round once every four years, results like this once a lifetime. A united West Indies side would surely have swept Kenya away, but this was no such team. They had sulked their way around the subcontinent, refusing to play in Sri Lanka and criticising each other in the Press. This was their lowest point. They were sloppy and petulant on the field, dropping catches and conceding numerous extras, but they should still have surpassed Kenya's 166.
Yet their response was reckless and they slumped to 93 all out. Kenya's delight was perfectly encapsulated when wicketkeeper Tariq Iqbal, after a momentary fumble, gleefully held on to an edge from the careless Brian Lara and celebrated wildly as the magnitude of the achievement began to sink in.
Group match, Northampton, May 31, 1999
Bangladesh beat Pakistan by 62 runs
Quite how Asian minnows Bangladesh managed to overturn odds of 33-1 to beat one of the tournament favourites, a side with four wins from their previous four games, has been the subject of scrutiny ever since it happened. The ease and surprise with which the eventual finalists were beaten led to suggestions of match-fixing which refuse to go away. Yet it may just have been one of those days. Wasim Akram, Shoaib Akhtar and Waqar Younis all beat the bat often enough without luck as Bangladesh posted 223. Khaled Mahmud then removed Shahid Afridi with his fifth ball and went on to have a day he will never forget, claiming three for 31 as Pakistan slumped to 161 all out.