Poems by students
New Generation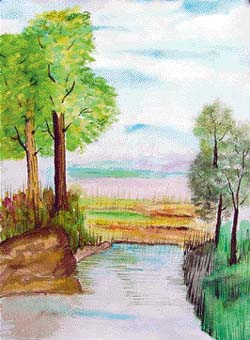 Natasha, class-XII
We are the new generation
bubbling with the light of life-
to spread the message of love is
for what we all strive.
As crusaders we have been born
and we go marching on and on.
Our motives are pure,
our endeavours bold,
to storm of reform.
No one can now hold
challenging all destinies,
changing the world
we go marching on and on.
We are the new generation.
Gagandeep Kaur, Class-XII
Spring is Here
When the sun shone merrily
and the breeze did gleefully blow,
when the trees in the breeze did gently wave
and the stream did bubbling flow.
When the lovely golden daffodils
daintily stirred in the wind
then the merry cuckoo pronounced low
the welcome arrival of spring!
Harshinder Kaur, Class-XI
Materialism
If we look into our hearts
we have so much to share
but even if we wish to
we do not find time to spare.
We live in a materialistic world
where there is no place for feelings
here even souls are sold
and 'they; call it business dealing.
For years that man has been
begging in the street,
but his voice is unheard
and tramped by busy feet.
His children live in bungalows
and do not care for him anymore
this is because he is old now!
And has given them all he has in store
Hema Sehgal, Class-XII
Little Smile
A little smile cost nothing
yet can it brighten a cloudy day
if life is a journey we undertake
why not go smiling all the way?
I wish I would stop all passersby
to offer them a little smile,
and ask them to try and learn
to smile, smile and always smile,
for its never too late to start
all you need is some love in the heart
Jaswinder Singh, Class-XII