Bat Bet on Net
Peeyush Agnihotri
THE cricket mega-event excitement has wormed its way round the globe. Everyone, in India, too, is eating cricket, sleeping cricket and hoping to drink it too, from the acquired-by-India World Cup. When World Cup is here, can betting be far behind. We leave the illegal aspect to the bookies operating from downtown, shanty shops and much-frequented roadside nooks. Legally, betting is on through the Net. While players are busy on field rewriting statistics, bookies and punters are going to the Net for updating their bet.

Kumble brothers spin software
INDIAN cricketer Anil Kumble is spinning software for the World Cup to help cricket lovers keep track of the game and bowl googlies with the help of his company's products. StumpVision, a software company promoted by Anil and his brother Dinesh, has launched three products aimed at the cricket enthusiast, cricket clubs, associations as well as the official scorers.
Web crawlers become cheaters' nightmare
UNIVERSITY students who think they can get away with cheating must think again. "Web crawling robots" are out hunting for them and monitoring all their activities. A Sydney university has become the first to invest in computer software using "Web crawling robots" to hunt through millions of Internet documents to catch students who cheat.
MSDN Yatra @ PEC
A one-day seminar on .NET application development in Chandigarh Microsoft Corporation India Pvt Ltd, today held last week. This event was part of an 18 city "MSDN Yatra" being conducted by Microsoft to help students and developers across the country acquire skills to develop next generation n-tier applications.
Continue full tax exemption, urge software firms
Sumeet Chatterjee
INDIA'S high-profile software development industry hopes the federal budget for fiscal 2003-04 would continue with the full tax exemption regime to help it cope with the an anaemic recovery in the global tech market.
IT WIT
by Sandeep Joshi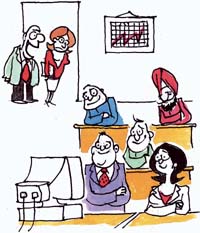 100 per cent presence! You know, this all is due to the cricket screensaver.
Emulators to test games
Manu Khanna
AS personal computers get more powerful, they can do a lot more. Among other tricks, they are now powerful enough to do a respectable job of pretending to be other kinds of computers, game consoles, mobile phones and what not! Welcome to the world of emulation. Predictably, the most popular type of emulators are the ones that emulate game devices like the Sony PlayStation or the Microsoft XBOX and even the Atari video game consoles.

Chat spouses and Web widows
CYBER flings are increasing these days as men and women derive pleasure with strangers in cyberspace - thus resulting in breakdowns and problems in marriage and relationships. Such Internet affairs are a growing threat to relationship and also becoming an increasing problem in marriage counselling, according to a report in News.com.au.

China surges in online population too
WITH 59.1 million Internet users, China is now second only to the USA, which has a whopping 170 million users, in terms of online population.
Picture messaging round the corner
EVER felt disheartened at being unable to send that fabulous picture to your grandmother back home, only because her mobile belonged to a different network? Do not lose heart as it might just be possible very shortly as picture messaging has moved a significant step closer to becoming a money-spinner for mobile phone companies following a technological breakthrough by MM02.
Mobile virus a distant reality
Vibhor Sood
A couple of weeks ago, mobile phone users received a mail warning about a virus floating around the mobile world. According to this mail, if a user received a call that displayed ACE-? in the caller display portion then the call should immediately be disconnected as this call was actually a virus, that could infect the mobile.