Close ultra camps: Vyas
Time for Pak to change mindset
Tribune News Service and UNI
Wagah (Indo-Pak border), February 10
Expelled Indian Charge d' Affaires in Pakistan Sudhir Vyas, immediately on crossing the Radcliffe line into India through this only road link between the two countries, called for a change in Pakistan's attitude and an end to cross-border terrorism to pave the way for bilateral civilised dialogue to resolve their outstanding problems.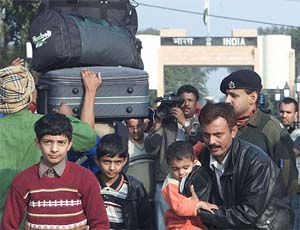 Mohammad Nazi (R), a staff member of the Pakistan High Commission in New Delhi, arrives with his children at the Wahga border near Lahore, Pakistan, on Monday, after being expelled from India.
— Reuters photo
Mr Vyas, who came along with four other expelled Indian High Commission officials, shared his and his staff's "difficult times in Islamabad", particularly in the aftermath of the terrorist attack on the Jammu and Kashmir Assembly and Parliament in 2001.
Besides Mr Vyas, others who arrived home are First Secretary Rahul Rasgotra and staffers R.K. Balu, Ranbir Singh and Surendra Raj Anand. They came in three vehicles driven by Indian drivers, according to BSF officials, who received them at the border outpost. Two vehicles returned to Islamabad.
The Indian diplomat and staffers were expelled by Pakistan in retaliation to India's decision to expel its Charge d' Affaires Jaleel Abbas Jilani along with four members of the Pakistan High Commission after Jilani was charged with funding separatist activities in Jammu and Kashmir.
Describing their expulsion as a retaliatory step, Mr Sudhir Vyas sought immediate closure of terrorist training camps in Pakistan for improving bilateral relations. He said India had taken the initiative many times to improve ties with Pakistan but the latter had not reciprocated. It may be recalled that Mr Vyas was harassed for two consecutive days (January 19 and 20) at the behest of the ISI in Islamabad. He said Pakistani police officials had come dangerously close to his car while he was on his way to office. Mr Vyas's flag car was blocked several times. Three vehicles, including a pick-up van, surrounded the official car in which Mr Vyas and his wife, Ms Vasundra, were travelling on their way to the Indian High Commission. Mr Vyas said that earlier low-ranking officials of the Indian High Commission used to face harassment but this time high officials were subjected to similar treatment, which is bound to further strain ties between the two countries.
Emphasising the need for establishing people-to-people dialogue, Mr Vyas said the solution to the problem lay in the Lahore declaration. He said the declaration was aimed at reducing tension between the two countries. Mr Vyas said third party intervention to resolve tension between India and Pakistan could further complicate the situation. Any problem between the countries should be resolved bilaterally.
Mr Vyas said relations between the two countries could not be improved unless Pakistan changed its mindset and stopped sponsoring terrorism and infiltration into India. Mr Vyas said statements by Pakistan were not sufficient to strengthen ties between the countries. These should be translated into action.
Mr Vyas said the future of diplomatic relations would depend upon Pakistan, as India had taken many steps to improve the same in the past. When asked who had sabotaged the intiatives taken by India, he said "you could yourself visualise". "We are neighbouring countries and we cannot remain hostile to each other". He, however, said that people of Pakistan wanted amicable relations with India and hence people-to-people relations should be improved.
Meanwhile, the Pakistani staffers strongly refuted the charges levelled against them by India. Mr Mohammed Nazir, a staffer, said Indian agencies had been harassing the Pakistani staffers while performing their diplomatic duties in New Delhi. He alleged that agency sleuths would follow them like shadow. He said Indians who would interact with the Pakistani staffers used to face the wrath of Indian agencies.
Among those who left for Pakistan included Mohammad Aftab Ahmed, Mr Abdul Razak. Though the family members were given seven days time to leave the country, at least 13 family members, including three women and 10 children, also accompanied the expelled staffers.