Tumse Milke
(Tips)

This is the Valentine season when Cupid strikes not only young boys and girls but also cassette manufacturers. To cash in on the love in the air, many of them have come out with soft romantic songs, although most of these are remix versions.
This one brought out by Tips Industries has 10 songs mixed by Subhash Ghai, Viju Shah, Sandeep Chowta and Sulemaan. It also has a bonus track from Dil Ka Rishta. The title song (from Parinda) has been remixed by Harry Anand and is backed by a video, which is on all mainline channels these days.
In its other presentation, Tere Bina ..., Tips has mostly dance numbers. These are not complete songs but only the opening lines of various songs. That is how 29 of them have been accommodated in the album.
Most of them are from films Khushi, Dil Ka Rishta, Raaz and Dil Hai Tumhara.
Jaan Qurban
(Daler Mehndi Music Company)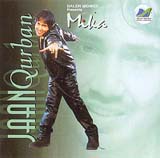 Daler Mehndi's company brings out albums by the owner as well as by prominent singers from India and Pakistan. This one is by his kid brother Mika. It is an almost solo job because Mika is not only the singer but also the music director, composer and arranger. Rhythm, base guitar and keyboard are also credited to him.
He is not in the same league as Daler but it goes to his credit that he has managed to develop a style of his own. With experience, he is also gaining some fluency. But unless he picks up first-grade lyrics, he will not be able to do justice to his work.