M A I N N E W S
Crisis in UP blows over
BJP sets up three-member panel
Tribune News Service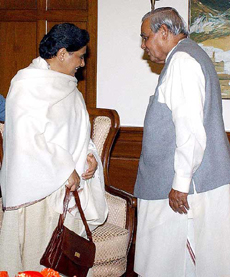 Prime Minister Atal Behari Vajpayee with Uttar Pradesh Chief Minister Mayawati at Prime Minister's residence in New Delhi on Saturday. — PTI photo

New Delhi, February 15
In a fresh effort to defuse the long-simmering crisis facing the BSP-BJP coalition in Uttar Pradesh, the BJP high command today decided to set up an informal three-member panel to interact with Chief Minister Mayawati with Prime Minister Atal Behari Vajpayee also asking the state leaders of the two parties not to rush to the Centre with their problems.

Both sides should respect each other's views and have confidence in each other and sort out the issues amicably rather than rushing to Delhi with their complaints, Mr Vajpayee is understood to have stressed at a two-hour meeting he had with Ms Mayawati and BJP leaders from the state.

"I am willing to take your people along but they should not go to the media. I am more than happy for regular interaction and regular consultation," Chief Minister Mayawati is understood to have categorically told BJP leaders.

Ms Mayawati later told newspersons that the misunderstanding among the coalition partners had arisen because of "misinterpretation and distortion" of statements of state BJP leaders by the media.

Asked to comment on the move to set up a coordination committee, Ms Mayawati said, "no coordination committee is being formed. These three senior BJP leaders from the state used to meet me earlier also and they would continue to do so once every fortnight".

Underplaying the differences, she said of late BJP leaders were busy and could not meet her regularly as a result of which minor differences cropped up.

Admitting that there was always scope for some small differences in a coalition, the Chief Minister said these would be amicably sorted out through discussion.

In a move to iron out deep-rooted and accumulated differences with the BSP, its coalition partner in Uttar Pradesh, the BJP appointed a three-member committee of senior Uttar Pradesh leaders.

The proposal for setting up the three-member committee was finalised after Chief Minister Mayawati had a meeting with top BJP leaders at the residence of Deputy Prime Minister L.K. Advani, ahead of a meeting with the Prime Minister.

The two-hour meeting at Mr Advani's residence discussed

the nitty-gritty of smoothing out relations, including the setting up of a coordination committee, as also the three-point formula proposed at last night's meeting.

Immediately after the meeting at Mr Advani's residence, the leaders left for Mr Vajpayee's residence to have further talks to resolve the issue.

The meeting was attended by HRD Minister Murli Manohar Joshi, BJP President M Venkaiah Naidu, Party General secretary Mukhtar Abbas Naqvi and Uttar Pradesh leaders, including state President Vinay Katiyar, state in charge Kalraj Mishra and former Chief Minister Ram Prakash Gupta.

Preceding the meeting, Mr Naidu had a round of discussions with party leaders from Uttar Pradesh to ensure that the relations between the coalition partners were not disturbed.

Rajya Sabha member Kalraj Mishra, state BJP President Vinay Katiyar and PWD Minister Lalji Tandon will comprise the 'informal' team that will interact regularly once in a fortnight with the Chief Minister, the BJP President said, briefing newspersons after a meeting between Ms Mayawati and state BJP leaders in the presence of the Prime Minister at his residence.

Mr Advani, Mr Joshi and Mr Naidu were among the Central leaders who were present at the meeting which was preceded by parleys between Ms Mayawati and others minus the Prime Minister. BJP General Secretary and former UP Chief Minister Rajnath Singh did not attend the meeting due to preoccupation.

Prior to the meeting at Mr Vajpayee's residence, Ms Mayawati and BJP leaders had a meeting at Mr Advani's place to discuss the nitty-gritty of the issues to be sorted out, they said.