Wednesday, February 19, 2003, Chandigarh, India

EARLIER STORIES

February 17, 2003
Sonal Mansingh casts a spell

February 16, 2003
Dying art forms liven up fest

CM for Taj Hotel in Patiala
February 15, 2003
Patiala heritage fest opens
February 14, 2003
Punjabi ambience for Crafts Mela

February 13, 2003
Maharaja's dream forgotten

February 9, 2003
Heritage Festival to put Patiala on tourist map
P A T I A L A H E R I T A G E W E E K
Ustad Vilayat Khan weaves magic
Tribune Reporters


Patiala, February 18
Classical music emerged at its very zenith when sitar maestro, Ustad Vilayat Khan, who has been instrumental in bringing about a revolution in the music scenario through his introduction of "gayaki ang" in sitar, performed on the fourth evening of the Patiala Heritage Festival yesterday.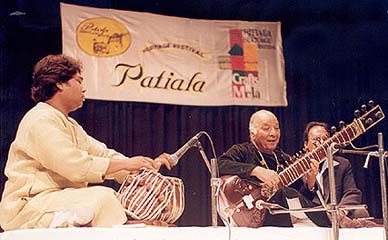 Ustad Vilayat Khan (centre) gave a spellbinding performance on the fourth evening of the Patiala Heritage Festival.
— Photo Subash Patialvi
Mesmerising the audience with his intense and soul-rendering music, the sitar virtuoso performed within the classical Hindustani tradition with a single accompanist tabla and brought forth an unparallel distinctive vocal approach in playing his instrument. Introducing the audience to the intense playing of "dhrupad", "khhayal, thumri" and "bharvi" on the persistent request of the audience, he filled the evening with his magic touch.
Singing several compositions by Bade Ghulam Ali Khan, Ajoy Chakravarty of Patiala gharana, left a deep impact on the audience as he performed in Patiala after 14 years. Initiating his two-hour performance with raag Bopali, Ajoy, who is also a research scholar on Patiala gharana introduced the audience to Khayyam, bhakti sangeet, dadra and ornamented form of thumri composed by Bade Ghulam Ali Khan.
Meanwhile, eminent art historian Dr B.N. Goswami while delivering the keynote address at a seminar on Patiala's heritage at Punjabi University here today said Patiala should be developed as an idea of a successful and open-minded culture.
He said the erstwhile rulers of Patiala worked for the welfare of all sections of society. He said the "jyot" and idol of Goddess Kali was brought from Kolkata as were teachers of Mohindra College established by Maharaja Mohinder Singh. Similarly, a study of sketches and paintings of the period revealed that the royalty gave freedom to artists.
Ms Anita Singh read out a paper on music. She highlighted how the Patiala Gharana came into being, saying that eminent musicians of Patiala were earlier "sarangi" players. This was essential because of the "tawaif" culture, she said.
Dr Param Bakshish Singh from the Punjab Historical Studies Department disclosed how the founder of Patiala, Baba Ala, had managed to get himself recognised as a Raja by the Durranis whom he had plundered.