M A I N N E W S
Squall leaves fourteen dead in Punjab
Tribune Reporters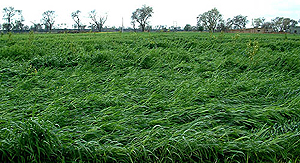 Wheat crop was flattened by the strong winds that hit Ferozepore on Tuesday. This photograph was taken at Jandawala Meerasangla village on Wednesday. — Photo Kulbir Beera
Jandwala Meerasangla (Ferozepore), February 19
Lakhewali Dhab, Ramsukh Pura, Kheowali Dhab, Bakainwala Dhani, Rampura, Narainpura, Danewali Satkosi, Khairpura, Seetoguno, Hozgandar village and this village near the Indo-Pakistan border faced large-scale destruction yesterday as a squall hit Abohar and Fazilka areas of Ferozepore district claiming five lives, injuring more than 100 persons and killing more than 100 head of cattle.
The squall destroyed more than 600 houses including 500 pucca houses and flattened sugarcane, sarson, fodder and wheat crop in more than 3000 acres. A siphon of Abul Khurana drain was also damaged badly.
The cyclonic squall claimed six lives in Abohar and Fazilka, seven lives in Jalandhar and one life in Hoshiarpur.
A pall of gloom has descended on these villages. The villages give the look of a war-ravaged area.
The dead, included Balkar Singh, Gurcharan Kaur, Makhu Ram (all residents of this village), Chander Bhan of Lakhewali Dhab and Ravi Kant of Hozgandar. An unidentified person, said to be resident of a near by village, was missing after being affected in the squall. He was on a scooter. The body of Balkar Singh was brought to this village from hospital this afternoon.
Out of the more than 100 injured yesterday after being hit by flying objects, a few had been discharged while those who received multiple injuries and fractured limbs, were in hospitals of Abohar, Fazilka and Patiala and some private hospitals for treatment.
Mr Harjinder Singh, sarpanch of this village, three residents of which died, said the squall blew away the roofs of many houses, including a temple, and household goods.
"After five minutes, it was normal but there was a trail of large-scale destruction never witnessed earlier. The five-minute cyclone has done the damage which this village never witnessed" pointed out Mr Harjinder Singh.
A visit to the affected villages, revealed the people, whose houses were destroyed were trying to look for valuables in the heaps of debris. The victims, who became shelterless had been shifted to local primary school and the veterinary dispensary while some victims had started moving towards other areas.
Mr Indraj Singh Chaudhary, a resident of Ramsukhpura helping in the rescue operation, said 13 houses in his village collapsed and more that 20 head of cattle also perished. He added that some villagers working in fields, managed to save themselves by hiding in Army bunkers on the banks of a nearby drain. He added that a tractor-trailer also fell into the drain when hit by high-velocity winds.
Mr Satish Munjal, Executive Engineer, PSEB, said that 30 electric poles, uprooted by the squall yesterday, were not traceable.
Mr Rinwa said that Chief Minister, Punjab, Capt Amarinder Singh had been informed of the large-scale destruction caused by the squall.
According to an incomplete list supplied by the Panchayat of this village, its injured included Baldev Singh, Surjeet Singh, Tejo Bai, Tirlochan Singh, Sohan Singh, Kamlesh Rani, Naveen Kumar, Gomti Bai, Tamanna Rani, Vidya Bai, Payal, Bhano, Kulwinder Singh, Gurtej Singh, Harbans Kaur, Pritpal Singh, Manpreet Kaur, Gurcharan Singh and Gurtej Singh.
Mr Gurlal Singh, District Jathedar, SAD (Amritsar), and Mr Rinwa said that they would urge the government to pay Rs 2 lakh each to the families, whose kin perished in this calamity. The seriously injured should be paid Rs 25,000 while others Rs 10,000 Compensation for total damage to pucca houses should be Rs 1 lakh per unit while for kutcha houses it should be Rs 50,000 a unit. The residents should be given relief for the loss of crops and head of cattle.
FAZILKA: The squall which lashed villages surrounding Fazilka killed four persons and damaged 300 houses and standing crop. A whirlwind hit villages Jandwala Mirasangla, Lakhewali Dhab, Kheowali Dhab and nearby areas on Tuesday evening. The 200-foot wide whirlwind uprooted trees electric, telephone poles destroyed houses and other structures.
According to Mr Bhupinder Singh Saharan, SDM, Fazilka, Balkar Singh Jandwala of Mirasangla village was hit by an uprooted tree resulting in his death on the spot. Chander Pal (17) of adjoining village Lakhewala Dhab sustained injuries and died after being shifted to Rajindra Hospital Patiala today morning. Mukh Ram (90) of village Jandwala Mirasangla died today here in civil hospital. Ravi Kumar (35), resident of Village Hauz Khas alias Gandhar, died of cloudburst and lightning.
Eye witnesses said that 24 cattle also perished.
MOGA: Supply of water and power was hit in last night's squall. There was no power in the town from 7 pm last night on Tuesday to 12 noon today.
JALANDHAR: Seven members of a family were killed here last night by a squall which struck the northern region.
Seven members of a family, including a woman and two children died when they were asleep and the roof of their house collapsed due to squall in Nangal Salala village in the Adampur sub-division near here, a woman died in Chuggittee, 10 km from here when a 20-foot wall of house fell on her.
The police has also recovered the body of an unidentified migrant labourer from the fields in Sangrawali village of Bhogpur town. The squall left a trail of destruction in slum areas — Bhargo Camp, Sodal camp and Avtar Nagar where roofs of houses, made of tin sheets were blown away by the squall.
Power supply was restored in most parts of the city after 18 hours PSEB officials were still rectifying faults.
HOSHIARPUR: Heavy rain and high velocity winds disrupted life in Hoshiarpur district last night and killed Ashok Kumar of UP, at present residing in Hajipur village near Hariana.
Trees were uprooted at on the Hoshiarpur-Tanda, Hoshiarpur-Phagwara, Hoshiarpur-Jalandhar and Hoshiarpur-Dasuya roads causing disruption in traffic till 11.00 a.m. today.
PHAGWARA: A squall last night led to power-breakdown and disruption of telecommunication besides flattening wheat crop and ruining mustard crop. Forty electric poles in villages Uchapind and Chiheru were damaged by the storm. A power transformer in Uchapind was blown away. Power failure was for over 13 hours.
A large number of trees were uprooted. The storm hit fodder and vegetable crops. Wind which howled in the night, continued today with rain throwing life out of gear.
A report from Ludhiana said that television and refrigerator sets in 20 houses in the Bhai Ranjit Singh Nagar locality were damaged when an electricity transformer was damaged.
BATHINDA: Rain and storm last night damaged not only crops, also hit telecommunication service and power supply in the district.
Besides high-velocity winds and heavy rain in the district and adjoining areas, hailstorm was reported from Burj Rathi, Kotli, Bhai Jassa in Talwandi Sabo villages. Wheat crop was the most affected. It was flattened at many places.