M A I N N E W S
India outplay Zimbabwe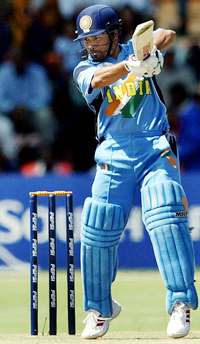 Sachin Tendulkar hits a shot during the match against Zimbabwe at Harare on Wednesday. — Reuters photo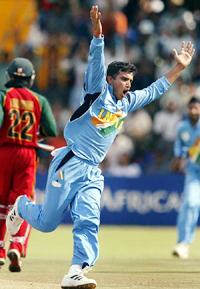 Saurav Ganguly celebrates after claiming the wicket of Zimbabwe's Dion Ebrahim (L, back to the camera) on Wednesday. — Reuters photo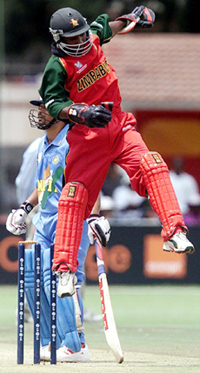 Zimbabwean wicket keeper Tatenda Taibu, front, celebrates after India's Sachin Tendulkar, back, was bowled out. — AP/PTI photo

Harare, February 19
Indian cricketers answered the call of their anxious fans back home with an emphatic 83-run victory in a World Cup league match against Zimbabwe here today, keeping themselves on course for a Super Six berth from group A.
It required hostile reaction from the supporters back in the country to shake the team out of slumber and force it to come up with a vastly improved performance in all departments of the game.
The Indian batsmen lasted their full quota of 50 overs for the first time in the last 11 matches, posting a decent 255 for seven which was built around a fine knock of 81 by Sachin Tendulkar. The team then gave a highly disciplined performance of bowling and fielding to skittle out Zimbabwe for 172 in 44.4 overs to register their second win in three matches. Skipper Saurav Ganguly, who made 24 runs, returned with a rich haul of three wickets.
India now have eight points, same as group leaders Australia who, however, have played one game less. Zimbabwe, who benefitted from a walkover by England, also have eight points from three games, having defeated minnows Namibia.
Playing in the backdrop of disturbing incidents of angry reaction by irate fans disappointed by the team's performance in the first two games, the Indians did well to excel under pressure.
Tendulkar, who had last night assured the supporters that the team will fight to the last ball, provided a flying start in the company of Virender Sehwag, putting on 99 runs for the first wicket in under 17 overs.
It was Sehwag, back to his usual opening role after coming at number three in the previous two games, who started the flow of runs, hitting a couple of boundaries in the second over. But Tendulkar soon took over from him and dominated the partnership thereon.
He struck a flurry of boundaries, taking advantage of the inconsistent line and length of Zimbabwe bowlers, as India raced to 50 in the eighth over. Tendulkar enjoyed maximum strike and made full use of the opportunities, looking determined to prove a point.
Sehwag, who scored 36 runs with six fours, scored at better than run-a-ball but still had to take the backseat as runs flowed from Tendulkar's bat.
Sehwag was out while trying to cut Guy Whittal in the 17th over with wicketkeeper Tatenda Taibu taking a good catch off a top edge.
There were useful contributions from all the main batsmen barring Yuvraj Singh. Rahul Dravid remained unbeaten on 43 while Mohammad Kaif, under tremendous pressure to score runs, made 25 runs from 24 balls. The Indians could have done even better had they not got a bit bogged down in the middle overs after the quick dismissals of Tendulkar and Dinesh Mongia by Grant Flower in the 28th over.
SCOREBOARD
India:
Sehwag c Taibu b Whittall 36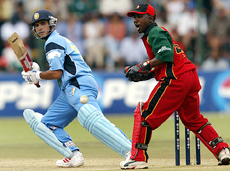 Saurav Ganguly (L) hits a shot as Zimbabwe's wicketkeeper Tatenda Taibu looks on.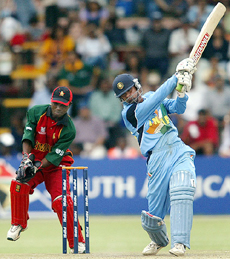 Rahul Dravid (R) hits a shot as Zimbabwe's wicketkeeper Tatenda Taibu looks on.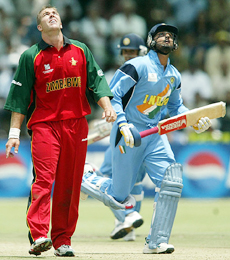 Zimbabwe's Heath Streak and India's Harbhajan Singh (R) follow the ball after Harbhajan played a lofted shot to be caught out.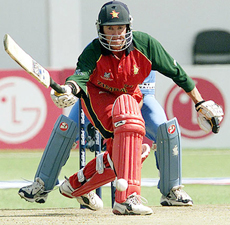 Zimbabwe's Andy Flower makes a one-handed reverse sweep.
— Reuters photos
Tendulkar b G Flower 81
Mongia c Hondo b G Flower 12
Ganguly c Streak b Blignaut 24
Dravid not out 43
Yuvraj c Taibu b Murphy 1
Kaif lbw b Hondo 25
Harbhajan c Murphy b Streak 3
Khan not out 13
Extras: (b-4, lb-4, w-9) 17
Total: ( 7 wkts, 50 overs) 255
FoW: 1-99, 2-142, 3-142, 4-182, 5-184, 6-227, 7-234
Bowling: Streak 9-0-46-1, Blignaut 10-0-54-1, Hondo 9-1-56-1, Whittall 6-0-37-1, G Flower 6-0-14-2, Murphy 10-0-40-1.
Zimbabwe
Wishart b Srinath 12
Vermuelen c Dravid b Srinath 0
A. Flower b Harbhajan 22
G. Flower c Harbhajan b Ganguly 23
Ebrahim c Nehra b Ganguly 19
Blignaut c Mongia b Ganguly 2
Taibu not out 29
Whittall c Zaheer b Sehwag 28
Streak c Kaif b Harbhajan 20
Murphy b Zaheer 2
Hondo b Zaheer 2
Extras: (b-4 lb-2 w-5 nb-2) 13
Total: (all out, 44.4 overs) 172
Fall of wickets: 1-1, 2-23, 3-48, 4-83, 5-83, 6-87, 7-124, 8-160, 9-165
Bowling: Srinath 8-1-14-2, Zaheer 7.4-0-23-2, Nehra 7-0-35-0, Harbhajan Singh 10-0-42-2, Ganguly 5-1-22-3, Sehwag 3-0-14-1, Mongia 4-0-16-0. PTI