M A I N N E W S
Pak air chief killed in crash
16 other officers also die; sabotage not ruled out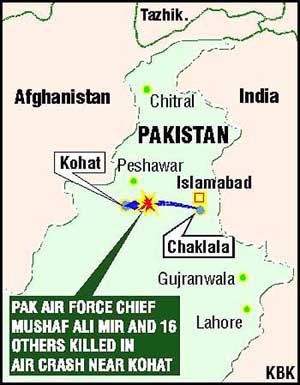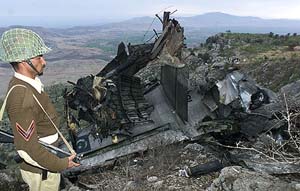 A
Pakistan army solider stands guard near the wreckage of the plane that crashed in the mountainous area near Kohat on Thursday. — Reuters photo
Islamabad, February 20
Pakistan Air Force (PAF) chief Air Marshal Mushaf Ali Mir, his wife and 16 other officers were killed today in a plane crash in the North West Frontier Province (NWFP), an official spokesman said.
"They were on board a Fokker plane," the spokesman told IANS. Among the victims were two air vice-marshals.
The group was headed for Kohat from Islamabad when the plane crashed minutes before landing, the PAF spokesman said. The air chief was on an inspection mission, he added.
The spokesman said sabotage had not been ruled out but it would be premature to say anything at this stage.
"A high-level board of inquiry has been constituted to determine the cause of the crash," said the spokesman.
This is the second crash in 15 years in which a senior Pakistani defence official has been killed. President Ziaul Haq, who was also army chief, was killed in a crash in August 1988. Twenty-one others, including the then US Ambassador to Pakistan, Arnold L. Raphel, were also killed. The mystery behind that crash is yet to be resolved. Mir became air chief in October 2000.
The wreckage of the plane was found some 70 km west of Kohat, said the spokesman. "There are no survivors. All on board were killed. The control room in Kohat lost contact with the plane after 17 minutes of take-off from Islamabad," said the spokesman. The plane had apparently crashed due to bad weather, he said. Most of Pakistan's northern areas, including Kohat, have been facing cloudy weather since last Saturday.
The air chief's wife Bilqis and air Vice Marshals Abdul Razzaq and Salim Nawaz died in the incident.
President Pervez Musharraf, who is also army chief, has expressed "shock and grief over the loss of precious lives". Prime Minister Mir Zafarullah Khan Jamali, who was on a visit in Sind, returned to Islamabad soon after news of the crash was received.
The air chief was commissioned in the PAF in January 1967. He commanded a fighter squadron, a fighter wing, an operational base and a regional air command of the PAF. He had qualified for a flying instructors' course and a combat commanders' course and was a graduate of the PAF Staff College. IANS